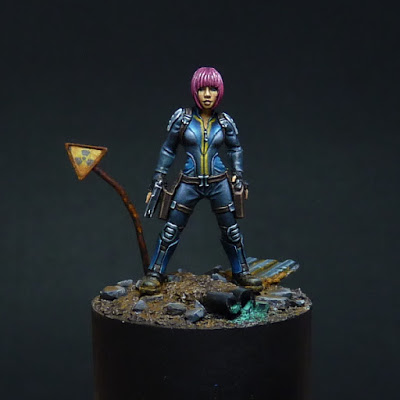 Hi everyone!
Today I want to share my latest project. This mini was really a in-between-projects mini, and originally I had thought I would paint her in a day or two. Of course, once the paint started flowing I got into the mood and it took a bit more time for me to finish her and the base. I really needed this, as I was stuck in a little rut and any mini I was thinking to paint suddenly looked too daunting.
With the big release of one certain game today, I was excited to paint this mini up as a vault dweller, wandering the radio-active wastelands.
This mini is from Hasslefree minis, and I have come to really appreciate these minis lately (even more). Not only because the sculpts are very feminine and sexy, but also because they almost paint themselves. They make such a great canvas, and are not overly detailed (even though I do really like that, it just take a whole lotta time to paint).
So here she is, hope you like her. Also, if you want to you can vote for her on CMON or Putty & Paint.