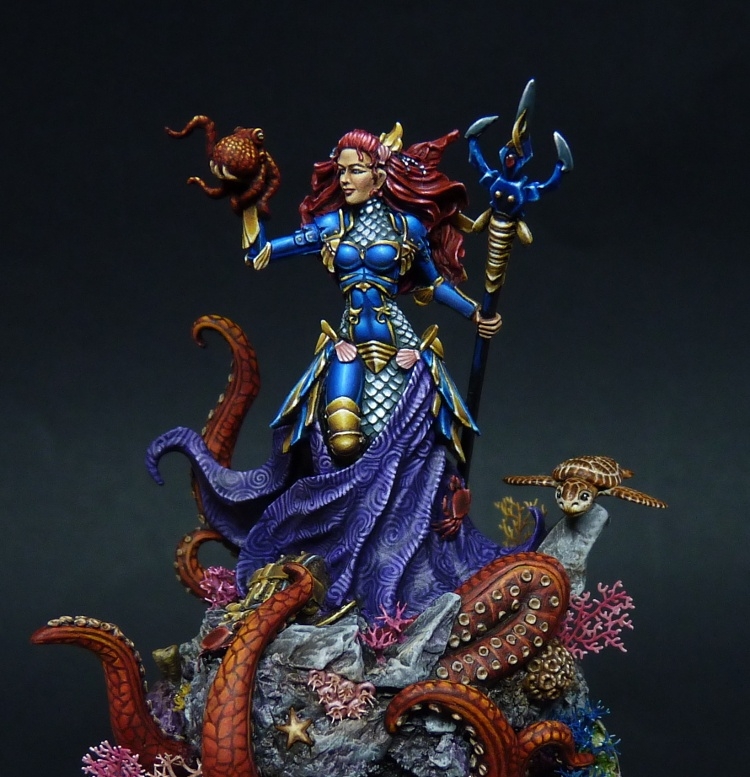 Hi everyone!
This is Marike, Guardian of the Reef from Dark Sword Miniatures. I have spent most of last year painting her and her base. She was really amazing to paint, so many crisp details and so much different surfaces to play with different effects.
I tried something new here, which is to combine NMM with metallic paints, I used this on the scale-like armour she weares. Building the base has been great fun as well. It is made using the base that is part of the sculpt and a scratch built base to provide the basis for the coral reef. Some parts of the coral were hand-sculpted by me, some other coral parts, the fishes, crabs and sea stars were etched brass from Industria Mechanika. The shark comes with the miniature. The other corals are made with island moss from Green Stuff World. The turtle was sculpted by me. It was something entirely new, as I had not tried any sculpting before. In the end, I am very satisfied by it and I had great fun painting it :D. The base came with two or three tentacles, I sculpted the others to match those.
I still have some progress shots of the making of the base that I may put together as one big article. Let me know if you would be interested in this!
I entered Marike in Scale Model Challenge 2017, in the Master category and I was super excited to win gold. It gave me the confident to do my own thing, a path that I am still progressing on slowly ;).
Hope you like her as much as I liked painting her 🙂