In this review we take a look at a limited edition resin miniature by Studio McVey. Let's start by introducing this company:
Studio
McVey produces high quality miniatures for gamers, collecters and
painters. We aim to produce the very best miniatures in the industry,
focussing on high quality and original and innovative design.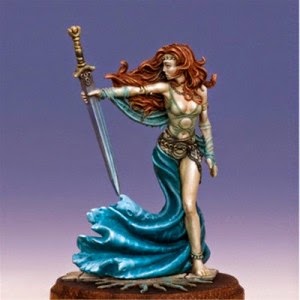 Al-Vianna (limited to 750)
Studio McVey
£11,99


Studio Paintjob
The miniature: Al-Vianna
Al-Vianna
is a resin miniature, with a limited production of only 750 castings.
The miniature comes with a 30 mm base, and a original certificate. It is
packed in a sturdy blister package.
The Sculpt
Obviously
I would not have ordered this model if I didn't like the sculpt. It has
great proportions and despite the slightly static pose there is a lot
of dynamics in this model. The hair and dress give a feel of a strong
ocean breeze, which suits the water-nimf model very well.
The
detailing on this model is incredible. Some of the details can hardly
be seen by the naked eye, but they are there and they are amazingly
neat.
Of course, this is a matter of taste but sculpt-wise this miniature is absolutely worth every penny.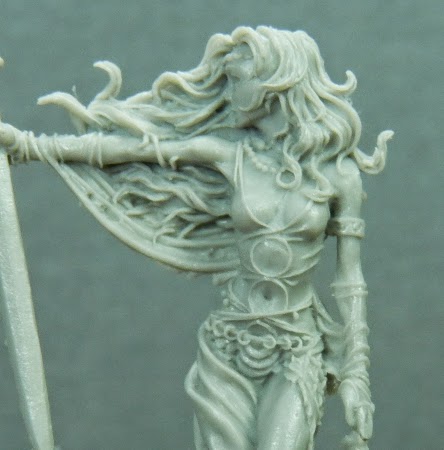 Cast Quality
Al-Vianna
is a resin miniature. This means that the properties are different from
metal miniatures and cast mishaps take different forms through this
medium. One of the biggest issues resin casts can have are air-bubbles.
They can destroy a smooth surface or some nicely sculpted details. Like
metal, resin casts can show both flash and mold lines.
Let
me start by saying that before this miniature I've only held a few
resin miniatures, but so far I never saw the benefits of the cast
material. Well, this miniature definitely helped change my view.
The
cast quality of this miniature is very high. I cannot detect a single
air bubble, apart from the holes on the bottom of the dress but they are
supposed to be there. There are no visible mold lines, and only a few
areas that need clean-up: at the left handa small piece of sprue will
need to removed and a piece of sprue connecting the dress to the sword
needs to be cleaned.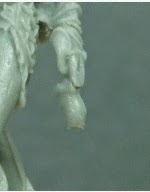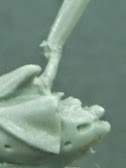 The Verdict
In
my opinion, this miniature is perfect. The great detailed sculpt and
wonderful cast quality have changed my opinion about resin models. When
it is done correctly, this material can give amazing results. The price
is a little steep, but for this quality it's definitely worth it.
Hopefully
we will continue to see great releases like this from Studio McVey. I
know that this will not be the last miniature I will purchase from
them.