Hi everyone,
It's time for me to post some pictures from my latest project: a GW Eldar Farseer.
Again, this mini is painted for the Lowlands contest at Games Workshop.
It's the first time I'm painting a bit more intricate freehand patterns, which you can see on the back. It still needs some clean up and I have to add some shades – although I'm terrified of doing that and potentially ruining it.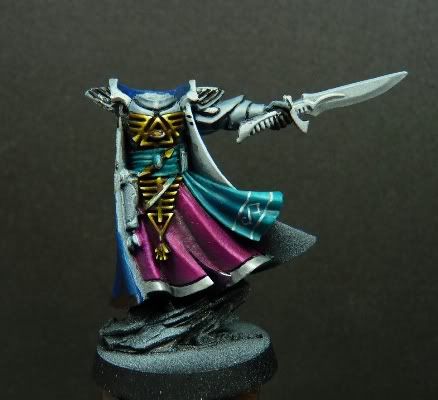 Portal
Some other exciting news (from my point of view at least) is that there the last copy of Portal, that you can now download using this LINK. I'm very excited that they chose me for the section 'meet the WAMPer', so check it out if you're interested 🙂
Some fellow WAMPers suggested to me that it's time to step out of my comfort zone (highly saturated and bright colour), so I'm thinking about painting something using more earth-tones and more desaturated. If you have any suggestions on which minis are great for that, let me know 🙂