Hi everyone!
Those of you that have seen pictures of "work-in-progress" miniatures that I am working on, might have noticed the holder that I use to mount the figures. Quite often I get asked what those holders are. These holders have been made by the incredibly talented Stephan Rath, and sold by PK-Pro.
About four years ago, I attended a painting workshop by Stephan Rath (aka Derwish and founder of Rathcore). It was there that he introduced the class to his holders. I have been using one ever since and I literally cannot paint without it! Until now…
The new V3 series Miniature holders on Kickstarter
Rathcore has now redesigned their miniature holders and they will be available through their Kickstarter launching today. Follow this link to the Kickstarter!
The man himself has been so super kind to send me several of the new V3 series Miniature Holders to test for myself. So now I would like to share my findings with you :).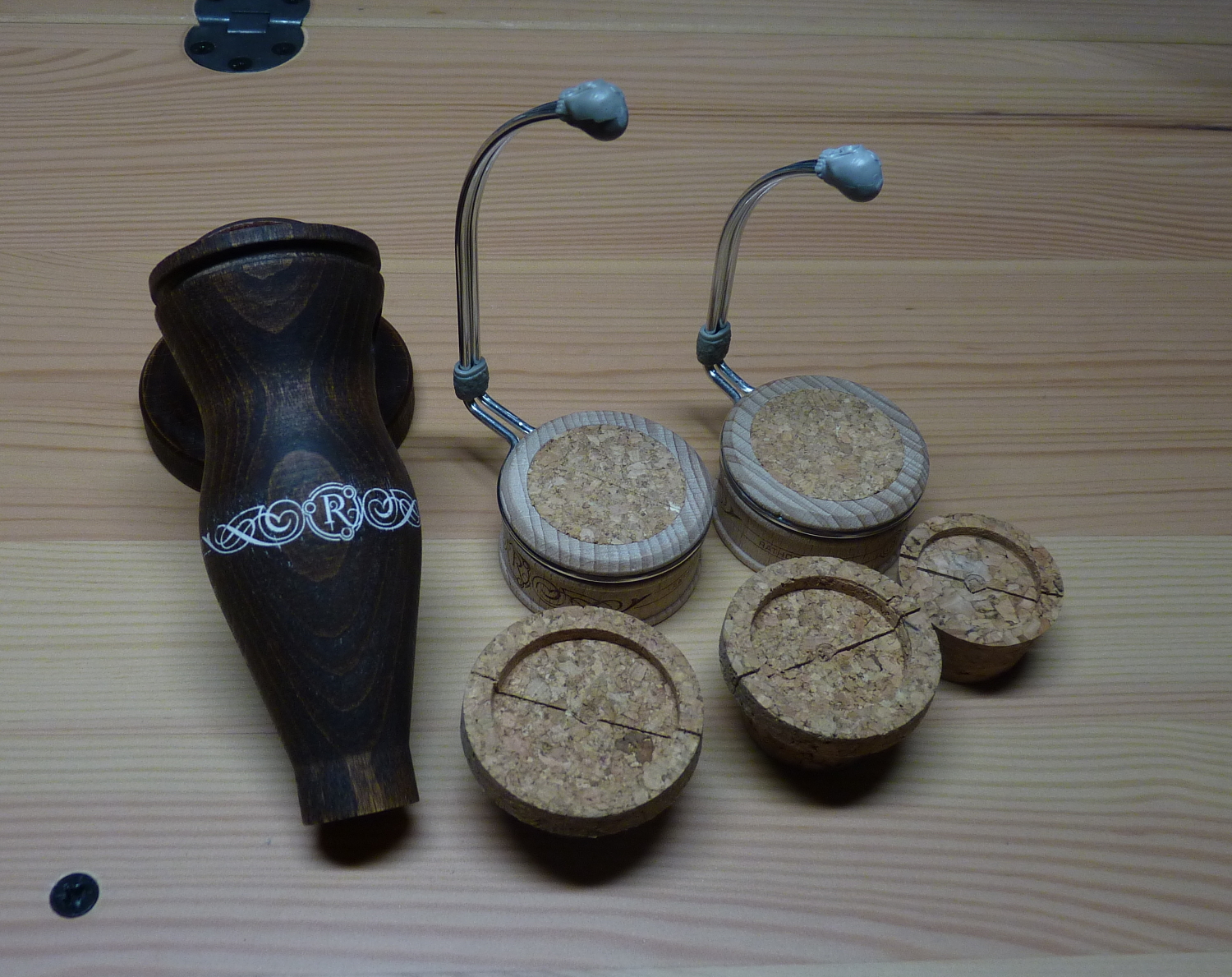 The V3 series contains several different holders. There are 3 different sizes of (what I would call) the standard holder, there is the new grip holder, and then there are special corks designed to hold miniatures on a base.
Standard holder
The standard holder works in the same principle as the old design holder. You pin a miniature (metal, resin, plastic it does not matter) in the bottom with two or more long pins. The holder contains two pieces of cork, in between which you set the pins. When the cork is sturdily placed in the holder, the mini is cursedly placed. You can use the holder with or without the metal handle. The handle is designed to give you extra support to make sure you can hold the mini without shaking. You can even place your brush against the grip for more controlled brush movements.
In the picture below you can see a comparison between the old design holder and the new V3 series holder. As you can clearly see, there has been a major change in design. I think it looks great! Very fancy! However, the changes in design are not only visual. In fact, there are a lot of noticeable changes when using the holder.
For example, the new holder is significantly lighter than the old holder. This is the result of a change in material for the base (wood instead of ceramics). The base is also a little bit larger (mainly in height), this makes it easier to hold it and greatly reduces cramps when you work too long without a break. Also, the metal handle has been redesigned to have a rounded shape. This is something you actually feel when using the holder. The handle also moves much more smoothly in the new wooden base. Lastly, the cork insert is slightly bigger, making it easier to place miniatures for which the pins are further apart, this also makes them more stable.
Overall, these are excellent improvements to an already great holder!
The standard holder can be combined with 3 different handles: for 30mm, 54mm, and 75mm figures. For me personally, and this is likely because I don't have large hands, the 30mm handle lies the most comfortable in my hand. But you do not necessarily have to place your index finger on top of the handle.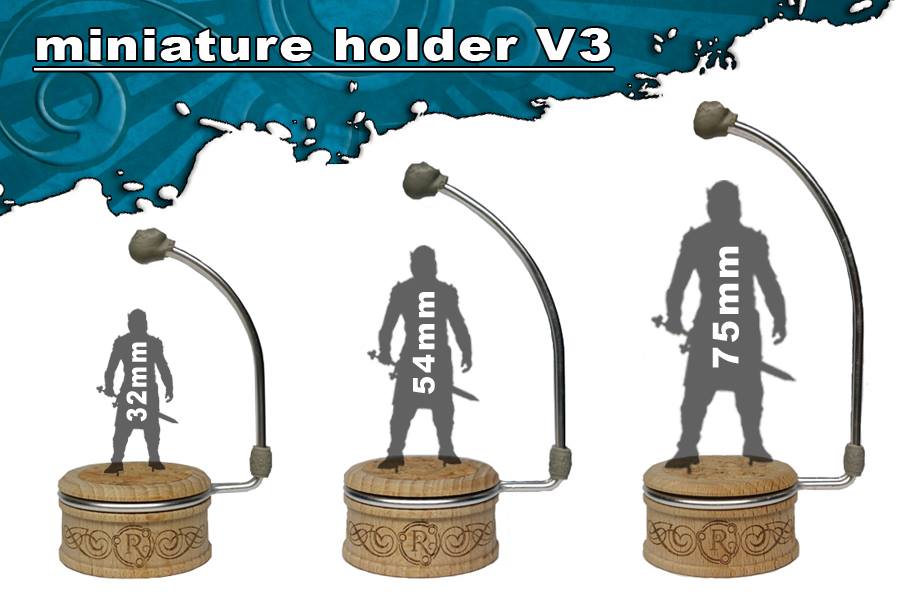 Another option to add to the holder are special cork inserts for miniatures on a gaming base. This is especially helpful for painters (or gamers) who prefer to paint a mini that is already placed on a base. The inserts are available for small 25mm bases, 30mm bases and 40mm bases. I did not have a 25mm base to test, but for a 30mm lipped base, it works great. The mini is mounted very secure.
Grip holder
This was something I was incredible excited about. Even though I loved using the standard holders, sometimes during very long painting sessions I felt like I could use something bigger to hold. And here comes the grip holder!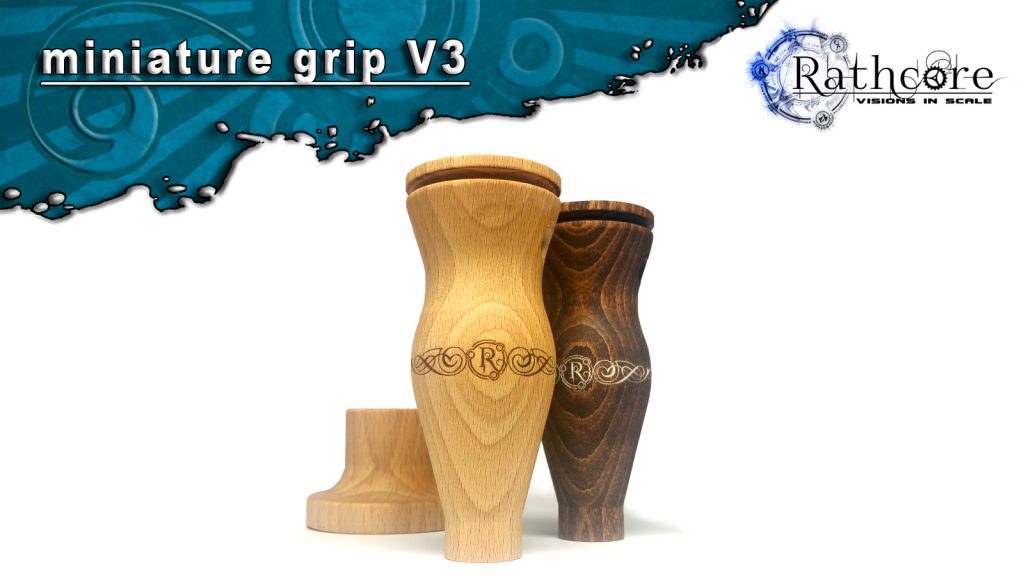 Not only does this holder look incredibly nice, it also works like a charm. The holder feels extremely comfortable to hold. It is light weight and the wooden material makes sure that it doesn't slip in your hand. The holder can be used on its own, but also in combination with a handle. This is also how I prefer to use the grip holder. I have been able to paint for several hours in a row and I did not feel any cramps or pains in my hand holding the grip (the other hand with the brush was unable to move out of the painting position though ;). I love it!
The holder comes with a special bottom to place it in, between painting. As the holder has a thin footprint, this is very thoughtful as it prevents the holder from falling. It is also nice if you wish to display your mini while giving workshops for example. I think it's very great that they thought of this, but I do need to learn to place it in there because my mini has toppled over a few times because I forgot…
Overall I am extremely excited about these new holders
They work amazing and they feel very comfortable. You might wonder if there is nothing negative about them. The only thing I can think of is that they look so nice, that I will not dare to use them for priming minis (I did it with the old ones) in fear of ruining them. I am sure that you will see me use these holders for long time to come :).