Hi everyone!
Today I want to share my review on this wonderful mini from Kingdom Death: The 20 years old version of Savior. When this miniature was first released (limited) I was on a long hobby hiatus. I saw some pics of it later and I was bummed that I missed out on it. So a few months ago when I heard this mini would be re-released I did not hesitate for a moment and added it to my shopping basket :).
This miniature was sculpted by Yannick Hennebo, an ex-sculptor from Rackham and in my opinion the creator of some of the loveliest female sculpts that I know: for example Al-Vianna & Ar-Fienel from Studio McVey. The miniature is produced as a limited edition resin miniature (but I have no idea what that means exactly with this "encore" feature).
Sculpt


The sculpt of this piece really caught my attention. There is some innocence and grace to her pose, while her attire is slightly sexy. I love the subtle nature of this figure, especially when compared to the pin-up series from Kingdom Death (which I also really like, but have a complete different "feel to them). The miniature measures about 35mm from head to toe.
Components


The mini comes in a little craft box. I like those details, it makes it feel really special. Within that box there are several pieces: A little ziplock bag with the miniature, an insert base, a 30mm base, and a small card of concept art. In the enveloppe there was an additional print of the artwork. It feels like a little gift! The packaging is very sturdy and the miniature pieces are well contained in their bag.
The miniature comes in three pieces: The main figure, her left leg and a piece of sprue with her right hand and staff, and a piece of scarf.
Cast Quality


The cast of this mini is superb! Really not much to add to that. I cannot say anything about the difference between the original release and this "encore" version, but let's say nothing was suffered with the re-release. The details are incredibly crisp, as we are used to get from Kingdom Death. I have been looking very hard for a mold line, and I found only one on the inside of her left arm that is super tiny (I could only see it slightly on the pics afterwards) and because of the material is very easy to scrape away. There are only the tiniest bits of flash that are easily removed with a pass of a toothbrush. Really, the clean-up session of this piece will be faster than me finishing my hot chocolate!
Click on the pictures to enlarge. It is hard to catch all the details of resin minis on camera, but this should give you a nice idea of the quality. This is a 35mm mini!!!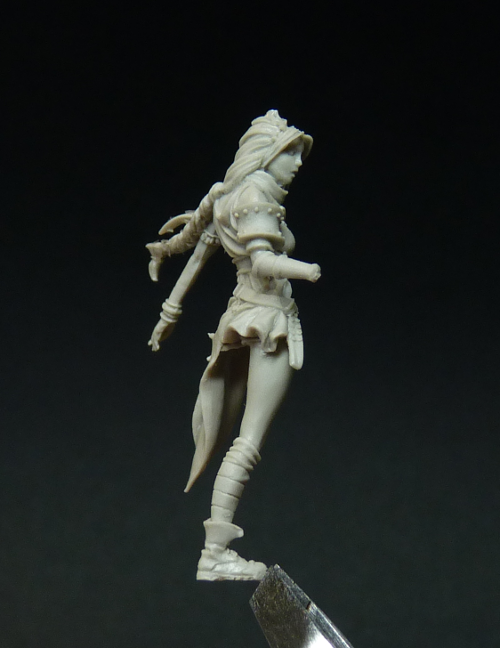 On this pic you can see the only mold line I found, on the left arm.
Assembly


Although the pieces should be easy enough to assemble, I think this will take a bit longer. The pieces are very delicate. Especially the hand is really small and there is only a then piece to attach it to. I'm not sure yet if pinning is necessary, I think I won't do that myself. The leg is a bit more tricky, it is a little hard to find the right angle in which it should be positioned. I also think that it needs the tiniest bit of gap filling when in place. But it's an easy to reach area and it should be no problem at all to finish assembly completely before painting. That makes me really happy 🙂
Overall


I'm super pleased with this figure. It screams quality and originality, and I am really looking forward to paint her. I love the boutique feel you get when opening the package and the crispness of the cast makes me want to scream "Hallelujah!". The prize is a little high on this piece, it costs 25 US dollars. I you include the shipping costs of 12 dollars, it becomes a very pricey piece indeed. But, for such a one-of-a-kind sculpt that I was dying to paint someday I think it is absolutely worth it :).
Unfortunately this miniature is sold out. So you might wonder: Why would you post a review on a mini we cannot get anymore? First of all, with this review I'm hoping to give you an idea of what the general quality of Kingdom Death miniatures is. Second of all, when there will be other "encore" releases, this shows you that there is absolutely no reason to worry about deteriorating cast quality.
I hope you enjoyed this review!
For those who are wondering about the next parts of the Dark Eldar step-by-steps, they are coming soon!