Hi everyone!
When I saw Ax Faction advertising their latest release, Lacerta, I immediately new this was thé mini for me! I don't know if it was because I had just started watching Vikings, and she somehow reminded me of leading lady in the show (perhaps the hair-do or quite similar name). Or just simply because she is a tough lady and the armour is like nothing I had ever seen before, being a combination between lizard hide and tree bark. Anyway, I was excited and soon sent an email to Paul, the owner of Ax Faction. To avoid the tragedy with housemates stepping on my mail & breaking the figures, I asked if he could send it in extra sturdy packaging. That was absolutely no problem and my figure arrived safe & sound in a couple of days :).
So with that little story, let's start the review!

Sculpt
Lacerta is a lizardman hunter and part of the Series 1- Hunters. She is a 32mm miniature cast in a matt grey resin. Altough her stance is quite simple, I think it has a lot of character. She looks very confident & tough yet at the same time she looks quite sexy. I have to say that the concept art for this mini is also stunning. With the great choice of colours that compliment themselves and the mini it stands out for me!
Components
The miniature is packed in a small cardboard packaging with the company logo. As I mentioned in previous reviews, to me that really adds to the feeling of a good product. There was also a big card with the concept art & a pin with one of the Ax Faction Hunters.
Within the smaller package, there is a 30mm base and a small ziplock bag with all parts of the miniature. Lacerta comes in four parts: The main figure, the insert base, her right arm, and a piece of sprue with her left arm & weapon and a big carved stone to go on the base.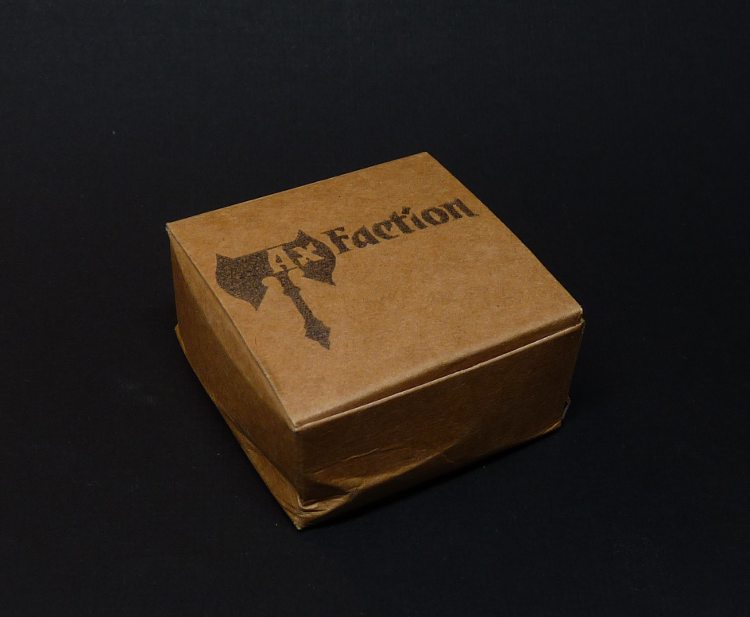 I'm happy it was packed in an extra box (over this one), as you can see there has been a stampede again. It all went well 🙂
Cast quality
I enjoy discovering new companies and obviously when you are ordering at a company the first time it is always a bit exciting to see what the quality of the cast will be. Well, let's say that this time I was absolutely pleasantly suprised. The pictures on the Ax Faction website and Facebook of the cast don't show all the crisp details that are actually on the figure. Just look at the tiny knobs and pieces, and even the eyebrows are sculpted on!
The big problem with resin casts are usually air bubbles (I don't think I need to remind anyone of failcast). Lately many companies seem to have resolved these issues and tiny holes resulting from air bubbles during casting are rarely seen. This mini is also absolutely hole free! The casting is really well done. There is some thin flash, as always, that can be removed with a slightlpas of a toothbrush. The only bit of cleaning will be necessary on some protruding pieces of sprue. There are often on minis because the air needs to vent out of the mold. You can see some places in the picture below. with this material they are very easily removed. I think only the removing of the piece on her hair might require a little bit of cleanup with putty after. I have only found a single tiny mold line on her right arm that is scared off easily. So overall the cast quality is super!
Assembly
For sure, assembly of this mini will be a piece of cake! The pieces fit together extremely well. I prefer to be able to assemble a miniature completely before painting. Often, however, I don't do this because limbs or stuff get in the way of some parts of the mini making it hard to paint. In this case, the right arm of the mini is blocking a large part of the side figure. I would choose to glue it on after painting the body. Since the fit between the arm part and the body is so good, it doesn't need filling and glueing it together after painting is easy. The right arm also fits easily, but perhaps needs a bit of filling. However, because I can assemble it before painting (as it is not blocking areas) that is no problem. The mini itself, and the big stone also fit on the insert base very well. Overall, I'm very happy with the design to make assembly easy :).
Really well thought of design I think!
Here are some pics of the assembled piece. This is just temporary, done with blu-tack, to give you an idea.
Overall
Yes! Woohoo! I am as excited about the actual mini as I was about the concept art and the pictures I saw of the mini :). This, in combination with the great service by Ax Faction really makes me happy! This mini costs £12.90 (about 16.50€) which in my opinion is a perfect price for a miniature of this quality. I am looking forward to see what more greatness is in store for this company!