Hi everyone!
About a year ago the Infamy: Welcome to the Big Smoke kickstarter was launched and succesfully funded. Of course I was in on this Kickstarter, and I am looking forward to receive my models :).
This review, however, has absolutely nothing to do with that Kickstarter :P. Well, OK, it is a miniature produced by Infamy, but it was never part of the Kickstarter. The mini was released as a special "Black market" mini that could only be bought at conventions (I believe Salute) and on Infamy's webstore.
The mini I am talking about it Princess Outis. The Kickstarter also had a Princes Outis model, but this model has a very different pose.
What you get
The mini comes in a simple blister package, no artwork or card in it I have no problem with that :). In the blister you find 7 resin pieces belonging to the mini: The main body, a weapon (held by both hands), an oxygen tank, a squid on a hook, two head options, and a scenery base. The mini also comes with a 25mm lipped base.
The sculpt
Let me start by saying that I absolutely love the theme of the mini. It's underwater! It's a scuba diver! Honestly, I was already sold by that idea :). What I also like is that you have the option to choose between two different heads: either Princess Outis' face or a scuba helmet.
This mini was digitally sculpted and to me it's always a bit of a guess what you actually get from that as casts can sometimes differ a lot from the digital render.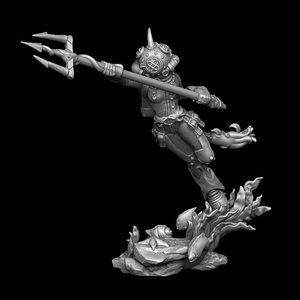 digital render from Infamy
The cast
Well, I had absolutely nothing to fear, this is a great quality cast. The resin is very clean and sturdy. There are a few minor mold lines, but they should be easy to remove with this material. There is hardly any flash and I only saw one big airbubble on the bottom of the base. This did not obscure any details. Very pleased with the quality :).
The details are very clean.When comparing this to a hand sculpted mini (for example this one I just reviewed) it is obvious that the details are a bit more out there, so to say. It looks a bit more comical, which is perfectly fine.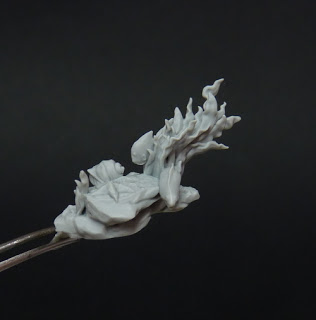 It's a moray eel and on the back a hermit crab, I'm loving it!
Assembly
The mini can be assembled quite easily using the pre-made holes and protrusions on the cast. The holes are a little tinier than the pins, so a scraping is useful to make it all fit better. For this mini, I would probably assemble everything, but the hands with weapon, prior to casting. The weapon is blocking a large part of the mini, so it would be easier to assemble after painting the front of the body.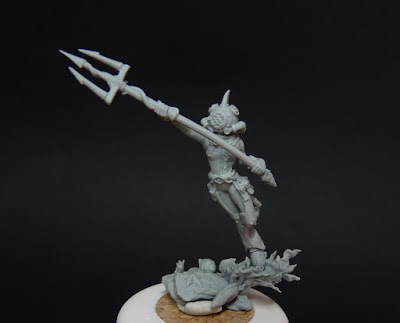 Quick & dirty assembly: even without glue or blue tac it says together!


Overall
I'm really pleased with this model. The setting really speaks to me and the cast quality is really good! I'm looking forward to put some paint on her.
Currently this mini is not for sale, but I bought it for £14, which I think is a good price for this mini. I'm definitely looking forward to the minis in the Kickstarter now :).
Hope you liked this review! See you soon for more 🙂

(adsbygoogle = window.adsbygoogle || []).push({});