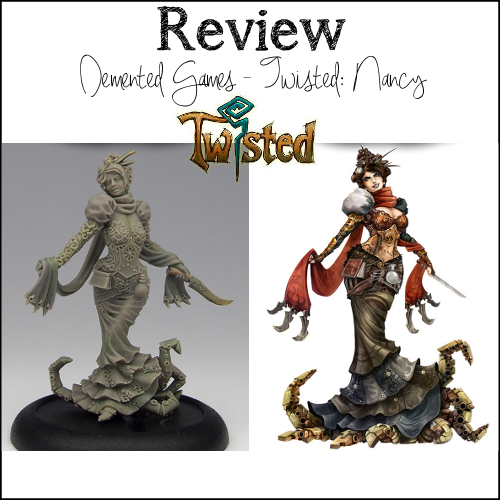 Hi everyone!
It's been a while
since my last review, but with this miniature I just couldn't resist ;).
When I first saw a
picture of the sculpt on the Facebook page of Twisted, I immediately fell in
love. This is exactly the type of mini for me: a feminine steampunk character
with metal tentacles!
Needless to say, the
minute this mini became available, I ordered her through the webshop of
Demented Games
. Sadly, a very unfortunate thing happened: my order got lost in
the mail :(. When I contacted the guys I immediately got a
reply and a new copy was sent to me by Sebastian Archer, who is also the
sculptor of this lovely lady. Great service!!!
When she arrived,
about 10 days later, I was stoked and I couldn't wait to see her!
With that little
introduction, let's start the review :).
Contents
The mini comes in a
sturdy blister package. It has different dimensions, compared to the usual
blister packages, which is a nice touch! The mini comes with a 30mm base. It
consists of 2 pieces of sprue: one with the main body, and one with 4
additional pieces. Also, with this limited edition resin mini, you get a very beautiful and signed certificate of authenticity.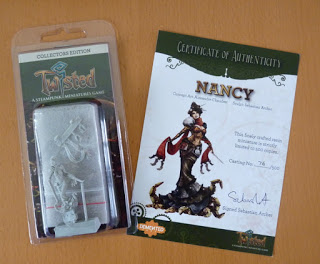 Sculpt
As I already mentioned
in the intro, the sculpt really spoke to me when I first saw it. There are a
lot of tiny steampunk details, which could work really well in both NMM and
true metallics. I love that in combination with the feminine dress. She
definitely is a signature Sebastian Archer sculpt, which in my mind is nothing
but positive!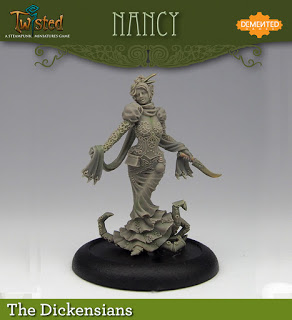 From Demented Games website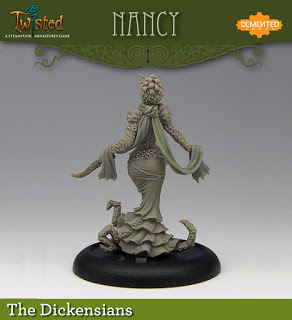 Quality
The sculpt quality is
really really good. There are so many tiny details on this mini, and all of
them are cast to perfection. That means that, even with a washing painting
style, no details would get lost. Of course, I wouldn't go for that, but the
cleanness of this cast really makes it easy to pick out all the details. I
cannot find a single air bubble or mold line on the figure, and there is very
little flash which can be easily removed with a pass with the toothbrush. This
mini is impeccable, it really amazes me how exceptional resin casting can be J. Of course, I already had very positive
experiences with minis from Sebastian's personal venture Guild of Harmony, but
still I was baffled by the quality of this piece.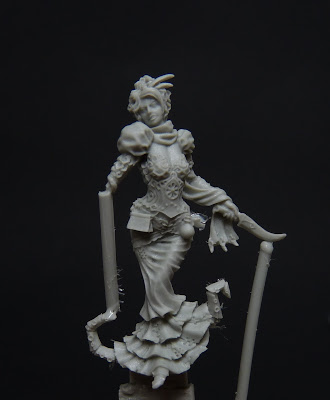 Click to enlarge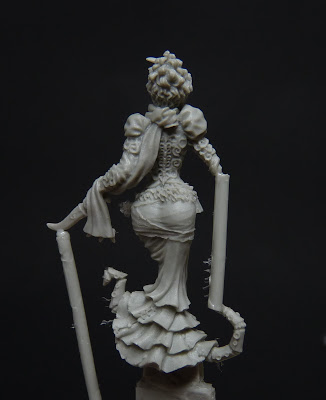 Assembly
There are some pieces
of sprue that will need to be removed before assembling the piece. That should
not be problem, as the material can be cat away quite easily. But, it does
require some care, as some pieces are very thin and fragile. Assembly should be
very straightforward. There are tiny holes on the main body and the small
pieces have protrusions that fit easily. Because the material is very light, it
wouldn't be necessary to pin the pieces, which is great as I don't like pinning
;).
Conclusion
I guess this doesn't
come as a surprise: I love everything about this mini! She will make an incredibly
project and I am really looking forward to start painting her. The mini has a
lot of parts on which a painters mind can go berserk, from delicate NMM to
freehand on the dress :). For this wonderful, limited mini you pay 27.95 Australian dollars (that is about 19 euros), which I think is a real steal for such a unique, high quality mini from a company run by great people!
I am
foreseeing a very bright future for the Twisted Game, it is definitely my wish
for them :)! I know I will be ordering more of their minis real soon ;).
I hope you enjoyed this review!
(adsbygoogle = window.adsbygoogle || []).push({});