Hi everyone!
It's been a while… let's just say these months were a little too nice to spend inside with a brush. I did work on some commissions, pictures will be up soon.
In the mean time, I haven't gotten around to posting my favorites of June, so here they are now! As we are already quite far into July, I thought I'd post my favorites for this month so far as well :). This month I saw some awesome works & many great step-by-steps on facebook. Hope you enjoy the list!
Note: I am posting pictures in this post, as links on Facebook tend to disappear or malfunction after some time. If you are the artist and you're not happy about this, please let me know and I will remove them from the post :).
Paintjobs
New God's by S. Gusev
Basing to the max! Wow! This base had so much atmosphere and authenticity :).
Random Encounter by Roman Lappat
Another brilliant piece by Roman. Great inspiration for creating atmosphere and lighting. Love the basework, I can just feel the wind blazing ;).
Mother of Dragons by Karol Rudyk
Amazing piece! From the suble skin to the wonderful green gold NMM and the dragon tattoo. Much inspiration in this piece!
No matter what may come, stay on the path! by Antonio Peña
Are you catching a theme! It's all about the atmosphere this month, it seems… This piece really stood out for me. I love the miniature (not sure where it's from), and the subtle lighting and wonderful base make it perfect!
Valentin 2045 by Mauganra
Who would've thought this fantasy mini would work so well in an apocalyptic setting. Amazing work on this lovely lady and the rust on the base is very well executed!
Enchantress by Fesechko
Damn that freehand! While I personally think the pants is a fashion no-go, the execution is amazing! I love the freehand on the sleeves, and the dragon is one of a kind. I cannot stop looking at this wonderful piece of art :).
Ben Komets on Facebook
Well, it seems like everything Ben touches turns gold! I'm really loving his recent works, many are on display on his Facebook page. My definite favorites are his work on this Nuts planets bust and this awesome mini from The Twisted Game.
Tutorials
This month I want to focus a bit more on some tutorials I found. There were many! It seems that Facebook really helps with these quick step-by-steps. Here are some that I found very helpful!
Step by Step painting gold with metallic paints by Karaikal Painting Studio
Simple but effective steps to painting golds! And while we are it, another SBS to painting a striped pants.
Many tutorials & videos about Plastic Modelling
I'm guessing this site must have been online for some time, but I only recently discovered it. Here you can find many videos and tips & tricks on all different aspects of modelling and painting.
Painting tartan trews by Fernando Ruiz Miniatures
Great, short, step by step pictures to create a tartan pattern.
Painting Eowyn by Eureka! Miniature Painting
Very in depth step by step into painting a beautiful version of Eowyn. Loving the vibrant colours :). Make sure you also check out the SBS on making that awesome base. By the way, while you are there, check out this very handy article about modelling supplies you can get at the supermarket.
Painting Den Lille Havfrue by Coloureddust
Another amazingly thorough SBS on painting the lovely Sirena miniature by Origen Art. To top it off, it covers a very nice section on painting rust and adding water effects to the base!
Step by step NMM chrome by Alfonso Giraldes
Another awesome step by step, this time by the extremely talented Alfonso Giraldez. I really love how he uses a combination of brush & airbrush work to create the best effect!
Megazord man's 30 sec tutorials
Loving this series by John Keys. Lots of great tips & tricks that are very simple to follow, yet so extremely effective. Check out his blog for his 30 sec tutorials.
Painting Buddha
Recently I became a member of Painting Buddha, because I just had to see how Ben does his magic voodoo stuff to make such awesome paintjobs. Now this month they released a series of free videos on YouTube and Vimeo about painting a Age of Sigmar mini.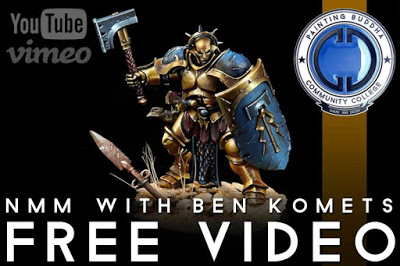 That's it everyone! I hope you enjoyed this list and I hope you were as inspired by the paintjobs as I was, and learned as much from the tutorials as I have ;).
See you soon!