Hi everyone!
As we are rushing into June (with summer hardly in sight here – but I am promised that will change this weekend), it is time to share my favorites of May with you.
Paintjobs
Mermaid by Andreas Pettau
By far the best version of this figure I have seen so far! I love the vibrant colours, and the sheen to the tail is amazing :). Also check this amazing rendition of Ragnar Lothbrok by the same artist!
Nancy Steelpunch by Rodrigo Cipres Garcia
I'm really loving the latest releases from Scale75, and the paintjobs from Rodrigo are amazing! The strong colours, smooth skin and excellent NMM are really my cup of tea ;).
People of the Sun by Adam Skinner
Love the incredible clean style of these minis, and of course the superb freehands. Also, another stunner from Adam is this dragon huntress from Joek Miniatures.
Zoraida by Marc Masclans
Well, let's be honest, this is probably just a model in a photoshoot right? Damn, the realism to this is amazing!!!
Lone Olfo by Daniel Liefer
Best OSL I ave ever seen! This is so convincing! Really inspiring 🙂
Tutorials & blog posts
Step by step Penthesilea part 1 by Ringil on Serpentarium
Great SBS, very easy to follow! I'm sure I will use this as inspiration & guidance in the future.
Releases
There have been many new releases this month, as always. But these really made my hands itch ;).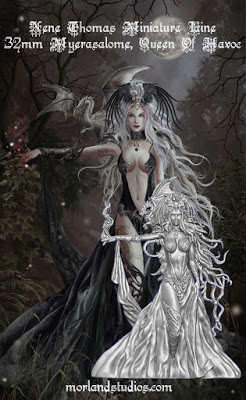 Myerasalome, The Queen of Havoc by Morland Studios. Available in 32mm and 54mm. I received the model yesterday, and review will be up soon :).
These two lovely ladies, Zoraida and Queen Crystal, are released by Ares Mythologic. Really love these! Maybe, one day, I will decide to start painting 70mm figures, but that is not this day…
It is steampunk awesomeness! These ladies really grasped my attention. Yes, I do tend to favor female models over male, I just love the delicacy on them. Nancy was sculpted by one of my favourite sculptors Sebastian Archer and Nightingale is crafted to perfection by Patrick Masson. Both are available from Demented Games.
Well I hope you enjoyed to see my favorites of this month!
See you soon for more 🙂