Hi everyone!
Today I would like to share my review on a miniature by
Figone:
Nathaliel
, which can be assembled as either a dragon prince or as a banner
bearer. This miniature is not quite new, but it is my first miniature by
Figone. I also thought maybe some people are not familiar with Figone (even
though it is known for some spectacular sculpts), so it is a way of introducing
both myself and those of you to this great French company :).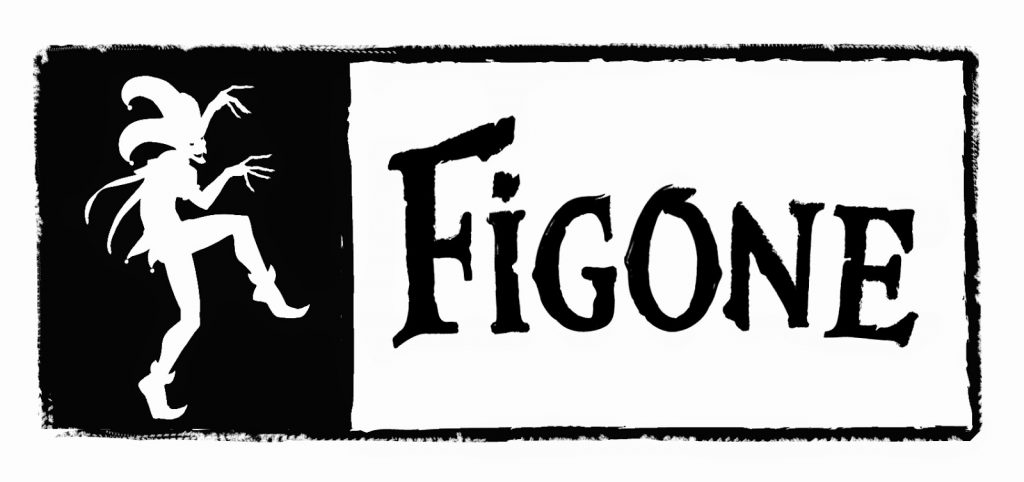 Figone
is a company run by Jérémie Bonamant Teboul, a great
painter and sculptor. They produce minis sculpted by the master himself, but
also by other amazing sculptors such as Alan Carrasco and Christian Hardy (who
is also the sculptor of Nathaliel). The the online shop you cal also order
minis from other companies, and apparently Jérémie mails every order by biking
fully packed to the mail office.
But, I did not order from Figone directly, so I cannot give
any comments on that. I order my version at Battlefield Berlin, together with a
larger order. Their service is always top notch 🙂
So on with the figure: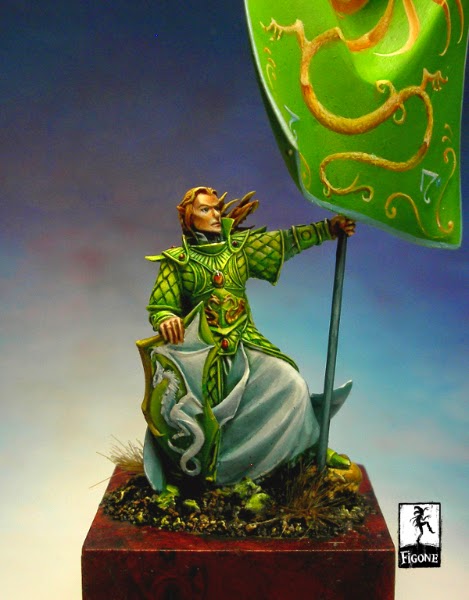 Nathaliel is a resin miniature, and comes in 8 parts: The
main body, a right arm carrying a helmet, a right arm carrying a shield, a left
hand carrying a sword, a left hand empty, a banner, a banner ornament in the
shape of a baby dragon, and a banner pole (made of steel). As you can see there
are different options to assemble Nathaliel. If you already know you want to
assemble him as a dragon prince, Figone also sells the mini with only those
parts at a reduced prize.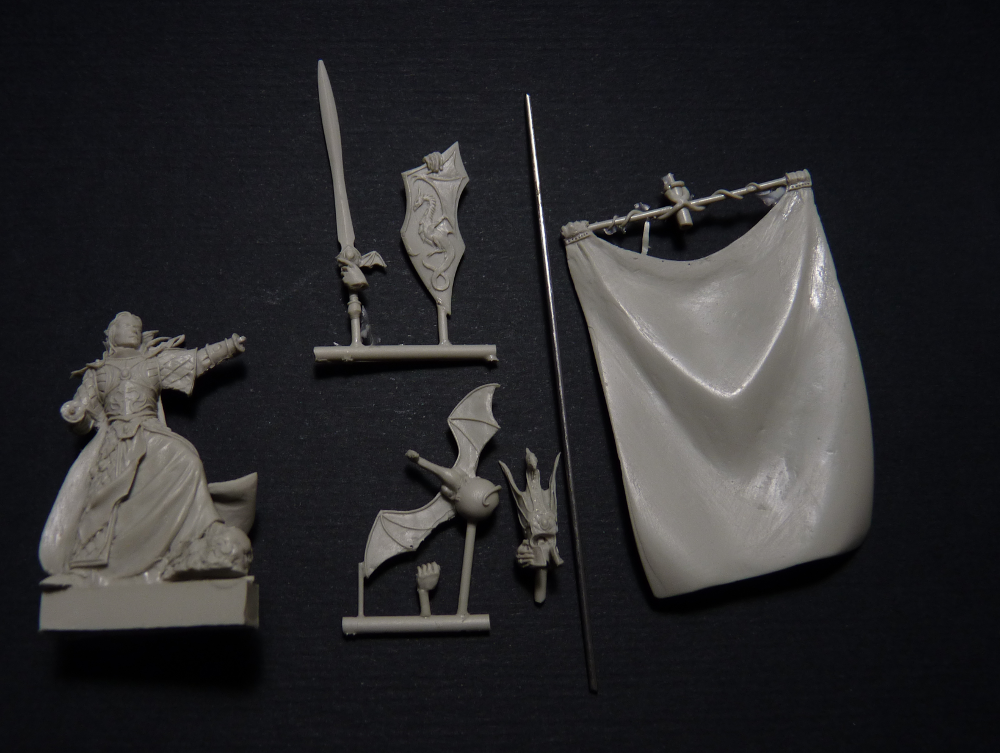 The mini is packed in a ziplock bag. Perhaps a blister
package would have been safer, as I have a little breakage in my mini (but
luckily that is on a part I will not use), more on that later.
There are many different kind of resins, and it is to give
specifications. But the resin of this mini is rather hard and if you pass the
surface with your nails it feels slightly rough. It isn't rough thoug, very
smooth surfaces. This type of resin carries details amazingly, is not bendy and
can be carved easily.
Cast quality:
The quality of the cast of this mini is superb! As I said
before the details are really crisp. This is exactly what I was hoping for and
I am absolutely not dissappointed. Except from a tiny mold line underneath the left arm, there are no mold lines that I can see, and
only very little flash (near the hair and on the banner) which is easily removed with a sharp
scalpel. The dragon on top of the banner has a little miscast, but fill it with some green stuff and it is good to go 🙂 Cleaning this mini is virtually no work at all!
(click pictures to enlarge)
Assembly:
All the parts have tiny protrusions or inserts to make
assembly really easy. The cuts are made on smart areas, so there is hardly any
filling required. Assembly can be a little tricky as the parts are very
delicate and thin. But with caution this should be another easy step.
Unfortunately a little part of the sword was broken off. I
think with some glue it is not such a difficult thing to put back together.
This just proofs how delicate the parts are, so treat with caution :). For me
this is no problem, because I will assemble Nathaliel as a banner bearer. Of
course! Because that huge banner just gives many options for an awesome
freehand!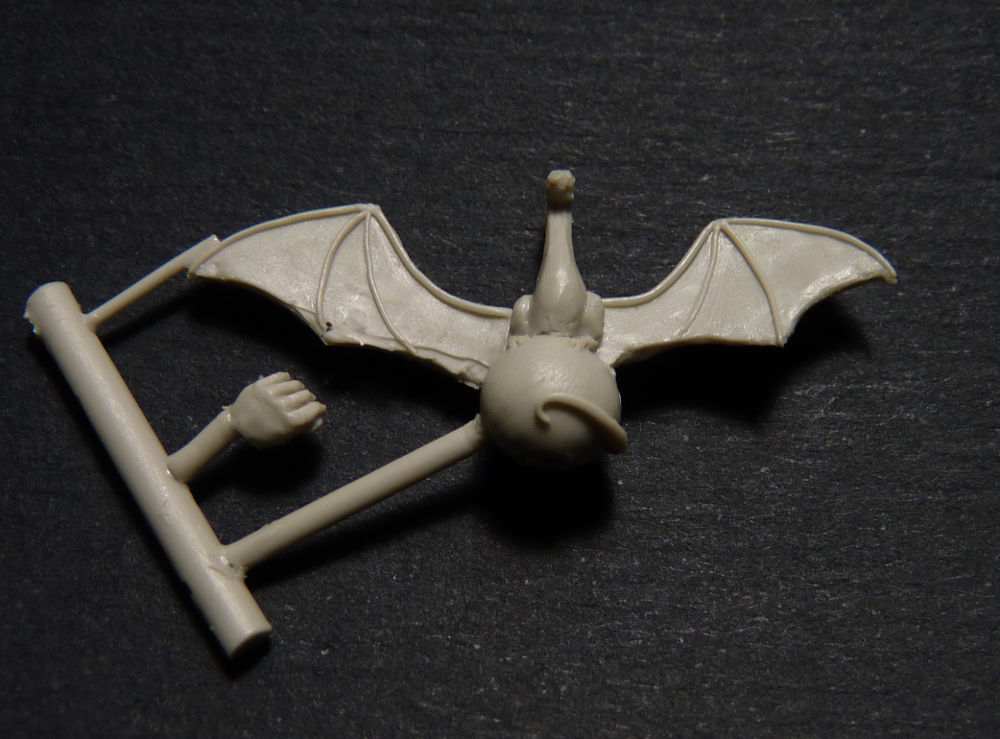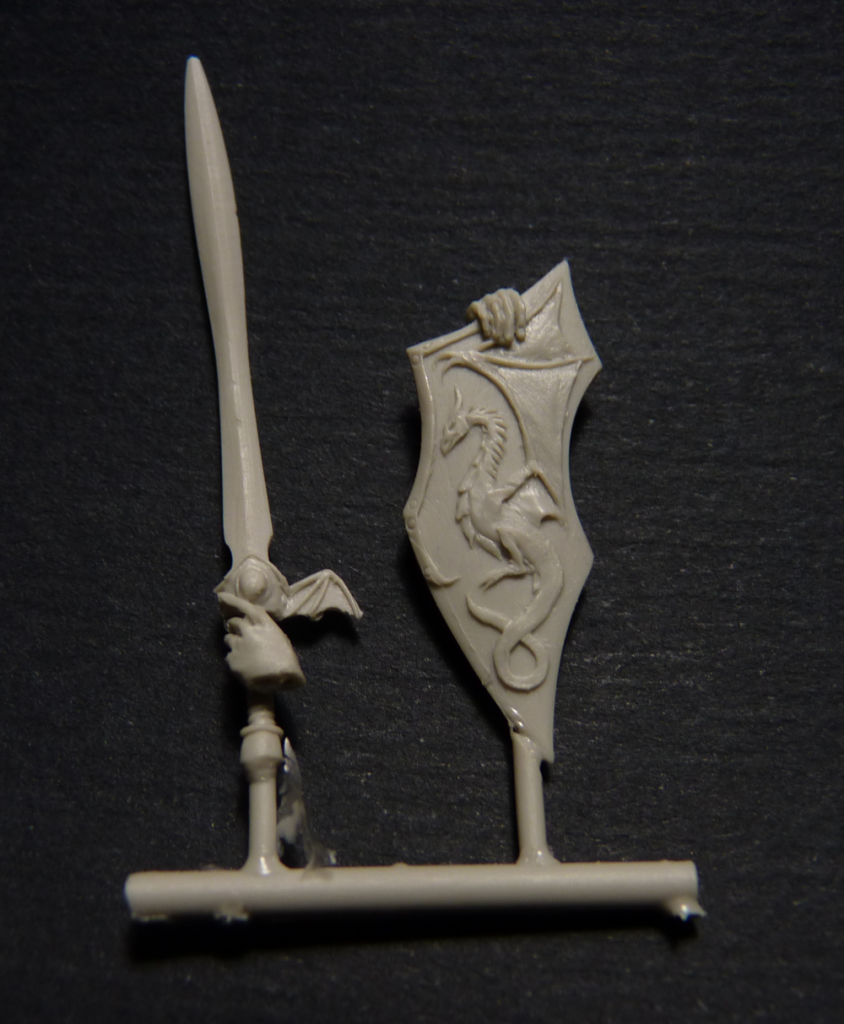 So what about the scale? Can this mini also be used in
combination with other minis, as a hero to your army for example?
Well, in terms of size, it is 35mm tall. The proportions on
this mini are much more realistic compared to, for example, GWs proportions. You could probably use Nathaliel as one of your heroes without it being obvious that it is a slightly different scale. I probably wouldn't
though, because I would be too afraid it would break.
I think 25 euros is a great prize for such an amazing
miniature! I cannot wait to paint this lovely mini, and I am sure it will make
a center piece in my collection 🙂