Hi everyone!
Today I would like to present the first part of an extensive review with you all. I will show you some products from the Modelmates weathering and ageing products. I decided to write this in two parts, because it would become too long to publish in one post. Yes, sorry I talk too much!
Disclaimer: This review contains products that I have received for review, from the Dutch webstore Scenery Workshop (retailer for Modelmates). This, however, does not influence my personal experience, and this review shall be completely unbiased 🙂
Modelmates is a UK based company that sells a large variety of weathering and special effects products for modellers. Their range extends from washes to fillers, to sprays and much more. In the first part of this review I will take a closer look at the following products:
Translucent weathering liquid – Moss green
Opaque weathering liquid – Mould green
Translucent weathering spray – Moss green
Translucent weathering liquid – Moss green (18ml, €7.95)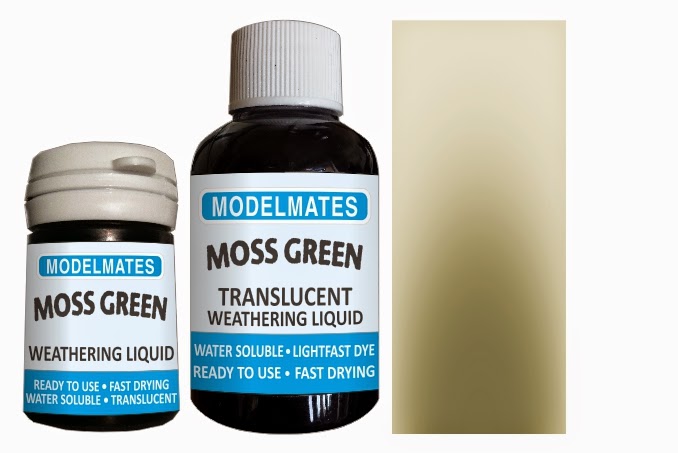 Picture from Modelmates
Opaque weathering liquid – Mould green (18ml, €5.45)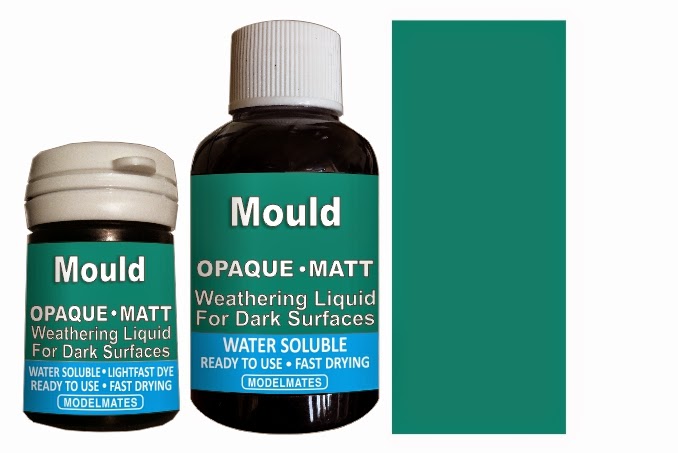 Picture from Modelmates
As Modelmates claim this product can also be applied with either a brush or an airbrush. The thicker the painted coat, the darker shade it will come. After drying it can be smudged. Modelmates also claims it needs some practice before use.
My experience:
At first glance, this liquid seems to be quite similar to the translucent liquid. It smells the same, and the consistency seems to be the same. However, when testing it, it clearly wasn't.
As you can see on the test paper, this liquid applies more streaky and is a little less viscous compared to the translucent liquid. Just as Modelmates claimed, the colour appears darker in the areas covered with more paint. Also, it doesn't cover the black completely in the areas with less paint (but not diluted) but it does cover in the areas where the paint is thicker. The product can make a very pooled effect, which works really well for mould. On the primed plastic (picture above) you can also see this puddle effect when the liquid is slightly diluted. This pooles more in the middle, and not so much on the sides.
I think Modelmates is quite right that working with this requires some practice. As the liquid dries quite fast and there is such a dramatic effect of the thickness of the paint, I would really to a lot of test runs before applying it to your almost-finished masterpiece. Smudging and diluting the effect is still possible after drying, but is not as easy as can be done with moss green.
Translucent weathering spray – Moss Green (200ml, €12.45)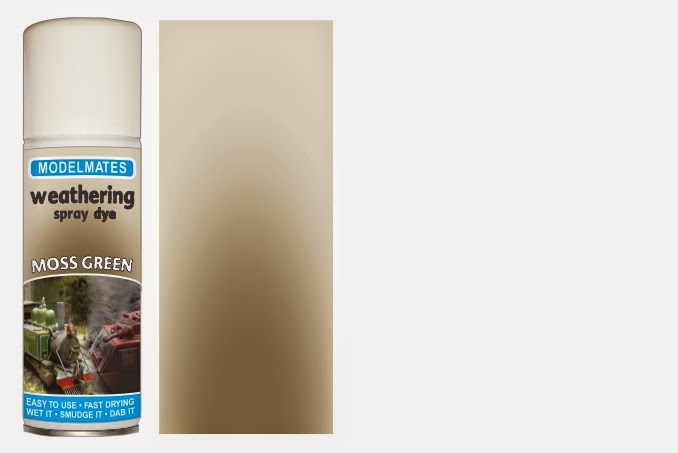 Picture from Modelmates
Modelmates describes this as a dirty moss colour. The spray has medium translucency and is not very dark. It is soluble in water and can be swiped and smudged.
My experience
This is an incredibly fun product! On the can it says explicitely "It's dye. Not paint". This couldn't be more correct. I have honestly never seen such a product, maybe because I don't use an airbrush. The "mist" coming from the can is very fine. It is also super easy to create a patched effect.
I tried this dye on a piece of paper:
As you can see it creates quite patchy effects. The distance to the paper was about 30cm. On the bottom right I sprayed from 10 cm distance. I think this can look amazing, especially on diorama pieces. I think it will be a bit more difficult on small pieces but maybe with some practice it works. One sidenote is that you do see quite some dots of paint. This could be because it is really hot outside and the paint dries before hitting the paper. On primed plastic (pics not shown) this effect is not that strong. You might also consider that mould would also come in tiny patches, so it might actually work 🙂
On the website of Modelmates you can see some examples of the spray dye on dioramas.
Conclusion
Overall, the effects of these paints are awesome! I think they really meet the claims that Modelmates makes. Indeed, all the effects require some practice before using it on your pieces, but I think that it is absolutely worth the investment. I think the instructions on both the bottles and the website of Modelmates are really extensive, and very helpful. I like that the bottles come with a little agitor ball to make the shaking easier (but not much shaking is needed). The prices are great for products that can be used for so many things. You don't need much to make it work wonders.
Maybe you are wondering if these products can replace pigments. I think they can. They dry up matt, and can be reworked after, much like pigments. But pigments will give you that sandy look, that these won't. I think both have their advantages and I think neither can replace the other. If you can, use both to create the nicest effects!
Some tips for using the products: Don't leave the lids open, the products will dry! Also, I would suggest to not use your best / favourite brushes for this. The paints are not very gently on the brushes. Furthermore, I think there is a lot of power in diluting this products. It gives different very different. But I think my most important tip would be to experiment and have fun 🙂
These products are available at Scenery Workshop. For more retailers take a look at the Modelmates website.I hope you enjoyed this review. If you have a suggestion let me know! I hope to make some more examples of these products in use, and I will post them of course.
The second part of this review will appear online in a few days!