Hi everyone!
A few months ago I was looking through pictures of an event (I don't remember which one), and I spotted this lovely miniature. I fell in love instantly! There is something about Egyptian themed minis that catches me. I was told that this mini was made by Michael Kontraros and that it would be available some time soon. That time came about a month ago, when this miniature was released through Indiegogo.
Obviously, I did not doubt for a second a ordered this lady. Yesterday the mailman delivered her.
The Mummy Queen is part of the Elite Series 54mm from Michael Kontraros Collectibles. She comes in a beautiful box, that gives this mini a very special feel. The box provides very sturdy packaging and inside the parts are protected by layers of foam.
The box contains 5 parts: The Mummy queen, with separate parts for her right hand with staff and a left hand. Then there is the base, and a separate mummy to put on the base.
Sculpt
The Mummy Queen was sculpted by Michael Kontraros himself. As I said, I fell in love with this mini from the moment I saw it. It is the combination of the Egyptian theme, the sexy, slightly dynamic pose and the many different textures. I like that it comes with a base, but I personally think the base is a bit chunky (especially the stone Egyptian head), but that is just taste. Overall: Love it!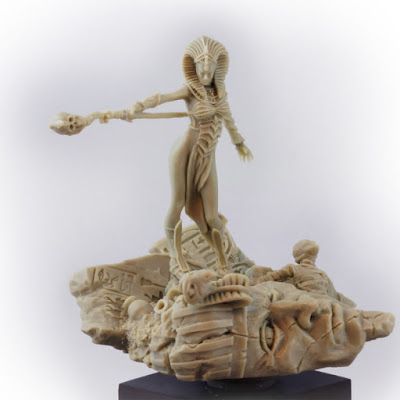 Sculpt by Michael Kontraros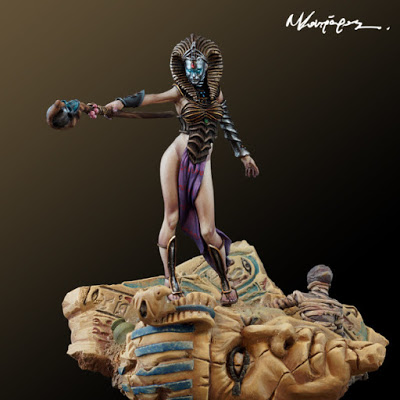 Amazing box art by Chris Panagiotou
Cast
Let me start by saying that I dont own any 54mm resin miniatures, so I have to compare it to the smaller minis I own. The cast is super crisp, there are no mould lines that I can find. On the main figure I don't see any air bubbles, everything is just super clean. There is a little damaged area on the chin, but a little milliput wash fixes that right right up. The staff has a little air bubble, that covered with a tiny layer of resin. This will be a fragile part so I will have to cover it with some putty. It is so minor however, and the details are incredibly sharp.
For me, it's the perfect cast!
The only thing I noticed is that the face has very little detail, I assume that this is because the character is wearing a mask that has little definition in the sculpt. It certainly cannot be caused by the casting, because everything is very detailed.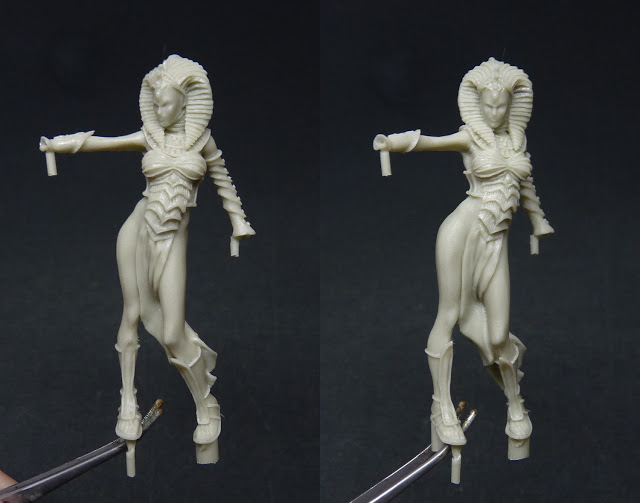 Click to enlarge to see all the details
Assembly
Assembly of this model should be pretty straight forward. The hands have little holes that fit well with the protrusions in the arms. There are some pieces of sprue that will need to be removed, but since the material is not super hard resin that should not be a problem at all. I love that it this model can be fully assembled before painting, without areas becoming too difficult to reach.
Overall
You can probably guess where this is going? I love everything about this figure! The subject, the sculpt, the cast quality, the packaging.
Full marks for me!
During the Indiegogo campaign this figure was sold for €45, including shipping. That is a great price for a 54mm resin figure including base. I am absolutely looking forward to future releases by Minchael Kontraros.