Hi everyone!
Especially in these months packing & travelling is a large part of our lives :). This is also true for miniatures of course. With many modelling shows & expo's taking place this time of year I thought it might be nice to look at this item for transporting your minis.
But let me first start with a little story about my experiences of the past years. When I used to go to events I usually carried a small Feldherr soft bag that had some foam in it, that was specifically cut out to fit my models. I just put the little bag in my rucksack and voila, that was it! My painting supplies were in another small bag and paint in yet another small box. Although it worked fine from getting things from one place to another, unfortunately I had to deal with a few casualties along the way. Obviously this was not the best way to transport delicate display models. So I began the search for something new!
I found some pictures of people using special wooden transport cases, and after reading one or two reviews I thought this might be perfect for me. So I placed an order at PK-PRO. A few days later a big box ended up at my place:
This is the Small Transport Case from HobbyZone.
This box contained all the pieces to put together the small transport case, including a paper with building instructions.
To glue the pieces together you need some wood glue and painters tape (to keep the pieces together when the paint dries).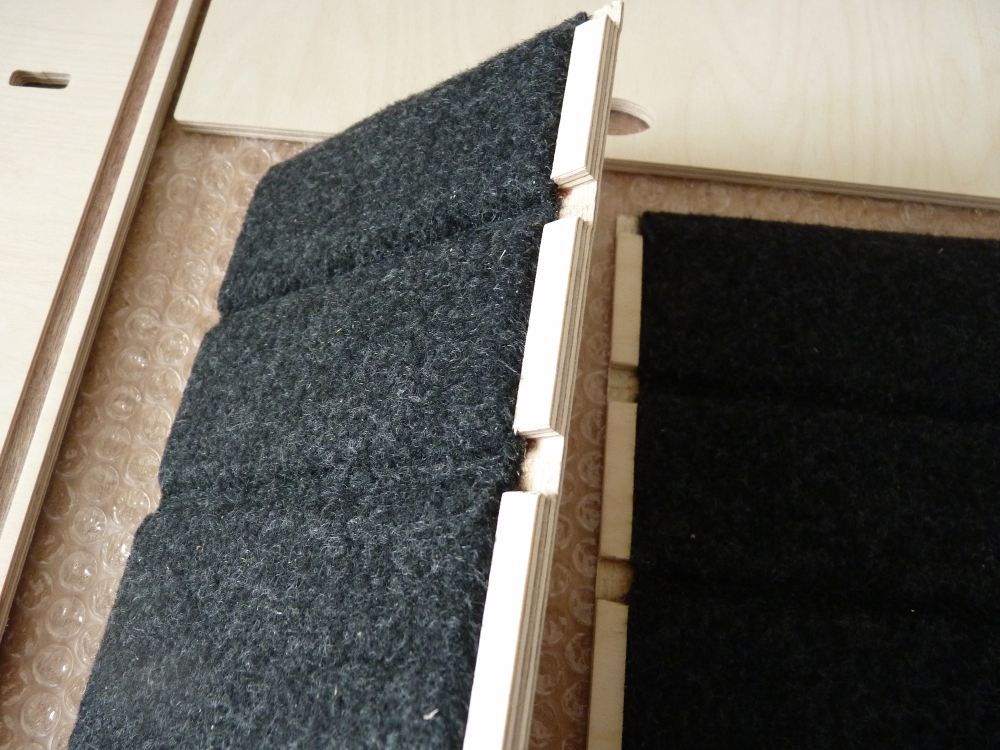 The sides are covered with felt for extra protection. There are also 2 slots to put the loose shelf.
I started by putting the pieces together as instructed in the leaflet. I made sure to put enough wood glue, to make sure it was tightly filled. I guess I overdid this a bit, but I thought "More is more".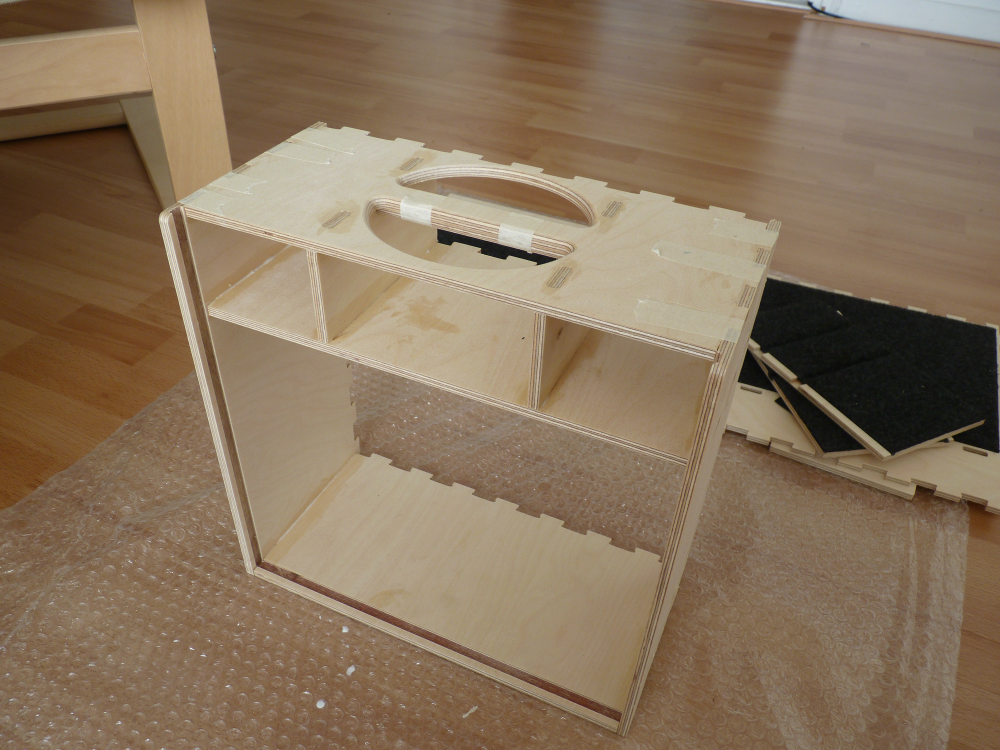 Oopsie I got a little sloppy with the wood glue 😛
I let the pieces dry overnight at this stage. The next day I sprayed the inside of the case with a clear varnish, for a little protection. This was the best time to do it, because in the next step the sides needed to be glued in, which contain large pieces of felt.
After all was assembled, I again let it dry overnight. After that, I painted the outside of the case with a strong varnish. I repeated that the next day.
And then of course I took my miniatures out for a little road trip:
My experiences:
This wouldn't be a review if I didn't include my opinions about the case, so here we are. I think the parts were delivered in a very sturdy box, and everything was wrapped nicely to protect it during transport. The instruction leaflet was very clear, and instruction was super easy. All the parts fit together really well. I feel that the pieces sort of snap into place, which makes it feel much stronger. The felt interior is a great thought, it adds a little extra protection if something were to come lose in transport.
I like the little removable tray to put your minis on. It is easy to take them out. The same goes for the front part, you can remove this fast if you want to quickly show off your minis to travelling companions or random people who you cross on the street "What are you carrying with you?"
The material is quite thick, about 0,7cm I think and feels very strong. The way that the parts are glued together, with the 'battlements' to lock in the separate parts. I do wish that the corners were contructed slightly different. Instead of making a tight fit in the corners, they could have chosen to make complete holes in the vertical parts to insert the horizontal parts like you see on the middle horizontal shelf and the two vertical parts on the top side (I hope that is clear)
But I do think that the case is very sturdy as it is! The space available for models is 26,5 x 22 x 12,5cm. Because the height of the insert can be adjusted to three different places you can determine how you want your minis to be put in.
In my case, I would have space for about 7 minis on the removable shelf. Because the heighest height of my models is about 14cm I cannot make 2 layers of minis.This is a pity, would be nice to be able to put in more, so maybe I would have liked it better if the case was a little higher. But because there is still some room to transport models horizontally I am still super happy with the case 🙂
HobbyZone also sells a larger version of the transport case if you would like to carry more minis with you. For me, this is the perfect size as it's not too heavy or bulky. I do think it makes a great fashion accessory too 😛
I have not ordered my case through HobbyZone directly, but I have ordered a painting station there before and the service is good and the products were delivered quickly and nicely packed.
In conclusion I am really happy with this transport case! I hope I can take it along many nice event trips 😀
I hope you enjoyed this review 🙂