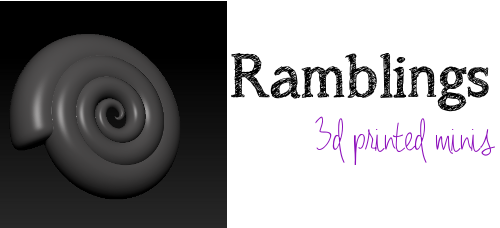 Hi everyone!
Today I thought it might be nice to share some ponderings I have had lately on miniatures sculpted in 3d programs and printed using a 3d printer. I have done some research that I would like to share with you, hopefully you might find it useful 🙂
Disclaimer: This ramblings is mostly concerned about 28 to 32mm minis or smaller 😉
As
you all may have noticed, lately it has been quite popular to use 3d
sculpting programs to create miniature sculpts. These sculpts are then
printed using a 3d printer, and that print is often used as a master for
creating copies of the miniatures. The amount of companies using this
method is increasing, you can think of popular companies such as Kindom
Death, Raging Heroes and most recently also Infinity has anounced that
they will start producing 3d sculpted miniature. Of course, there is
absolutely nothing wrong with that and the 3d models look really nice, I
think 🙂
One thing that comes along with this development, is something that we should also look out for. These are the
pictures that are posted in kickstarter projects or on the company
websites/webstores to show of their (upcoming) miniatures. The thing is, they often post pictures of a render
of the 3d sculpt, with that I mean a picture of the completed sculpt as
taken from the 3d sculpting program. These is often NOT the actual miniature
that has come out of the printer, and also not the miniature that you
will receive upon ordering this miniature.
Now I am not saying that this is not possible, obviously we
have seen many gorgeously produced miniatures that look extremely close
to the 3d render, and with that I am refering to the companies that I have mentioned in the top of this post. But, this is not always the case!
The outcome of the
3d print depends on many factors!
You have to consider that, although it
is a 3d sculpt that you see, the computer screen is 2D. Basically what you see on the PC screen is two dimensional representation of a three dimensional object. Without going into a difficult study into this, it means that a 3d printed version of a 3d object
drawn on a PC will not always look like an exact copy.
Another thing to
consider is of course the quality of the 3d printer that a company uses.
If it is less accurate (makes larger desposits of material, with fewer steps) it will result in a miniature with less
details, even though they were sculpted on in the original 3d sculpt. In the last step of course it matters how the cast is made, because that can also
take away more details.
So far, I have only seen this happen in miniatures of the
cheaper kind, those miniatures in softer plastic that come with
boardgames for example. The 3d renders look amazing, but the miniatures have little
details and edges are hard to determine. I do not want to name any companies or games, but a simple google search can show you examples. I solely basemy experiences on images and movies I have seen myself.
I don't know if this also
happens with the specialized miniature companies, as I have never received a copy of a 3d sculpted mini that looked bad, but it is definitely
something to look out for.
So when you see a render of a 3d sculpt, keep in mind that
this may not be exactly what you get. But sometimes this is the only
reference you have, so what can you do to get any idea of the outcome?
First of all, I would start by looking at other miniatures the company has made and sold. You can compare the images of the 3d render with the copy that you own or reviews you have seen online. Odds are that the new miniatures will have the same quality. Some companies also regularly post images of the outcome of the 3d print, which is a very good thing I think 🙂
Second, you can have a good look at the render itself. When we are painting our miniatures we make sure to exaggerate the contrasts and colours, because otherwise it will not stand out. With 3d sculpting for printing this is pretty much the same. Edges have to be defined with strong bounderies. Straps cannot be made thin, even though if it was in scale is should be, otherwise they will not translate to the mini. Ornaments, like swirls in armour need to be carved deep and with strong edges otherwise they will blend in with the rest.
If you want to see a clear graphical representation for this, I would suggest you visit this site, as it was very helpful for me:
Thoughts on 3d printing and gaming
I hope this post helped you a little bit, and also made you aware of the caveats of looking at a render of a 3d sculpt. Let me just emphasize again that so far I have not had any experience with this on any of the minis I bought from the well-known companies, and I have confidence that most 3d sculptors will also take these issues into consideration.
What a ramble! I hope it all made sense 🙂 I am open for any questions!