Hi everyone!
With the year only lasting two more days, I want to end 2014 with a small recap of the previous year.
After a long hiatus (I wrote my last blog post on 11 January 2013), I picked up the brushes again in 2014 :). Then in April I started posting on my blog again and kept going ever since. With more regular posts and updates, I've noticed a significant increase in visitors and pageviews, for which I am very thankful to all of you!!!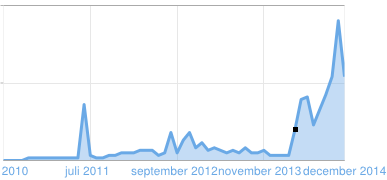 I'm a scientist, I like charts :). The black dot represents April 2014.
This year I have discovered many new companies that produce amazing miniatures. Some of their minis can be seen in the reviews I have written. For me, that was probably one of the most fun things this year! There are just so many incredibly beautiful miniatures released! Although I am not a fan of kickstarters (something with having to buy in large sets wen I just paint few minis), I think it has giving a lot of smaller companies an opportunity to share with the world! I am very happy with that :).

Another thing that has really turned this hobby around for me has been Facebook. Not only have I started sharing my own work on my Facebook page and in several groups, I have also discovered many incredibly talented painters from all around the world – and I have made new friends there as well! I think it is really great that we are able to share our works & get feedback in such a way, and I think it enhances the feel of a "community".
I am not exactly sure when Putty & Paint was established, but I certainly enjoyed it a lot this year. While on CMON you often see a voting bias (both positive and negative) for certain miniatures & painters, I find that this is much less on P&P. For me, it has been a daily stop this year and it is a great source of inspiration :).
Of course this post would be incomplete without mentioning the most amazing event of the year (IMHO)! Scale Model Challenge 2014! What an amazing day it was, I still look back at it with warm memories of meeting all my painting friends and looking at the bomb of inspiration in the contest :). Of course it was also great that Alice won second prize in the Fantasy Master category. But the best news is that next year SMC will span 2 days!!
In this post I will not share my favourite paintjobs or sculpts, simply because I have shared them in my favourites post over the past year and it would be nearly impossible to choose from all those awesome works!
For me it has been an amazing year painting wise. I have painted several models this year and I feel that with every mini I paint I improve bits & pieces. On top of this post you can see a little overview of some of the minis I painted this year.
As I mentioned before I have seen a big increase in visitors this year. Obviously that makes sense because I was very silent before, but I also think some posts really made a difference. And purely for my own interest, I have seen that especially the Dark Eldar Step-by-steps are really viewed a lot. Here are the top 3 viewed posts of this year (which is also of all time)
1) Dark Eldar Step by Step Part 2: Clothing & Armour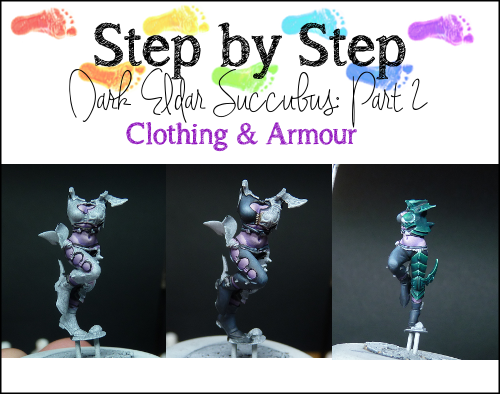 2) Dark Eldar Step by Step Part 3: Gold NMM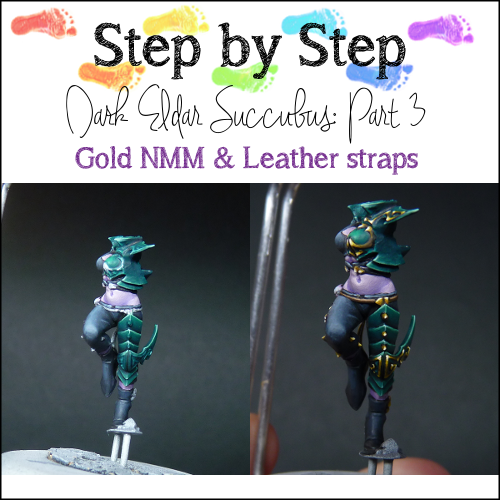 3) Dark Eldar Step by Step Part 1: Skintones
Closely behind these three posts follow the post Tips & Tricks: How to paint vibrant colours and Step by Step: Fast & Easy tattoos. I guess it is safe to say that you guys enjoy reading tutorials :D.
So what better way to end this post then by wishing you all the very best 2015!!
I hope to see you again next year! I have a lot of plans for the coming year and some exciting news as well :). Of course I will finish the Dark Eldar step-by-steps and many more tutorials!