I wanted to take some time to write an
event report. This is a long report, written from the heart, and I hope you
enjoy reading it! This report focuses on "Jarhead's beginners painting class",
a weekend workshop given by Roman Lappat. The particular workshop I attended
was held in Hamburg, during the last weekend of September 2012.
From the Massive Voodoo website:
This
class is about a basical overview on how I (Roman aka Jarhead) work, what I
think of colours and how to work with them. A lot of interesting stuff rolling
in at such a complete weekend, like going a path through art history to
understand relevant things like light and colour theory. Participants
should have experience in holding a brush. Not much more, the rest comes within
the class. Also advanced painters will have a lot to learn on this class as the
content is transferable to your grade of experience.
Although it's called a beginners class, it
is not only intended for beginners. Even expert painters will surely learn some
new techniques or insight from this paint master :).
While a longer evaluation follows below, I can already tell you I had a huge amount
of fun this weekend, and I learned a huge deal!
Event
report
I hope I can remember the sequence of
events correctly, it was just very overwhelming, in a good way!
On Friday afternoon m
e
and a painting friend from Groningen drove to Hamburg for the big event. The workshop
started Friday evening, where we received a very warm welcome! After setting up
all the painting and building gear on the big painters tables, it was time for
an introduction by Roman. He told about how he, and bibab (Brother in Brains
and Brushes) Raffaele Picca, view this amazing hobby of ours. He also showed
some drawings and photos that inspire him.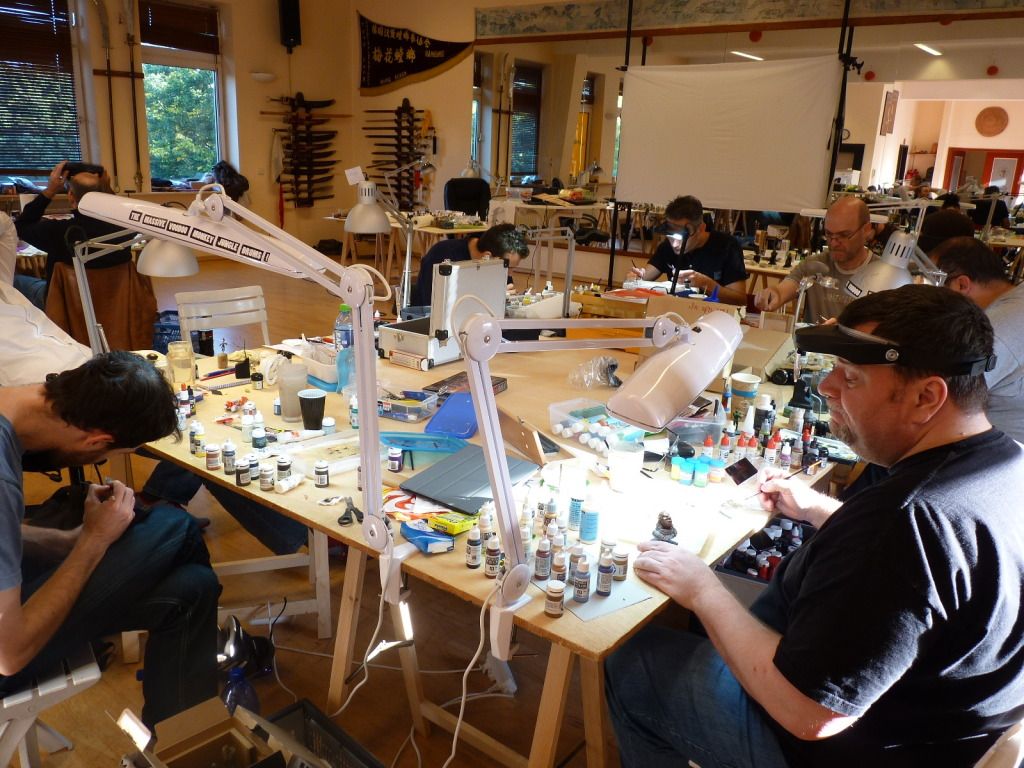 After talking about setting a scene and
composition, we started building a base using all the supplies that Roman took
with him. There was a huge amount of basing material available, and what really
amazed me was that a lot of it was just random junk. Anything can be used on
bases! I decided to keep my base rather simple, there was not a lot of time and
I'm rather slow too.
On Saturday the workshop started again at
ten in the morning. We made the final touches on the base, ready for priming.
But first the most important lessons of the weekend followed (in my opinion at
least), in which Roman presented theory on different kind of contrasts. Although
I know some bits and pieces about contrast, there were many ideas and theories
new to me, which should prove really useful for my next projects. Of course the
theory was supported by inspirational art work and miniatures.
In the afternoon we started painting the
base. Roman likes to create his pieces by first painting a sketch on the miniature.
This is a roughly painted guideline, using stark contrasts, to help with
painting the final piece. The sketch on the base was painted using wet-on-wet
blending, a technique I have seldomly tried using but always failed to succeed
at. Also during the workshop, the wet-on-wet blending proved to be quite
difficult for me; I'm really stuck in getting everything perfect at the first
try ;).
But in the end, I really liked the technique when used to paint the
groundwork on the base!
In the afternoon Roman showed us how he
painted skin of a miniature, and how he can create depth and round forms using
shadows and highlights in the correct places. Instead of giving a powerpoint
presentation, as before, he showed us his techniques by painting them live on
his miniature. So we were gathered around in a smaller group to look at the
master at work. This was really useful, and I was incredibly impressed with how
quickly he got such a great result.
After this, we started painting the skin of
our deamonettes. Everyone could choose their own colour scheme, but of course
we had to try to match it to the colours of the base, keeping in mind the
theory we had on colour contrasts. Again, we started on the sketch, using
wet-on-wet blending. I got frustrated when I didn't manage to make it work on the
miniature, which is when Roman stepped up and told me about "Happy painting"
and that it's ok if not everything looks perfect at the first go. Anyway, this
was still a sketch, and everything can be fixed. What he also said, is that if
you make a mistake, maybe it happens for a reason and you can find a creative
way to fix it. Maybe it even makes the eventual miniature better. His words
were really inspiring, and I am very sure it will help me get motivated and
happy with other projects :).
Afterwards, more theory and explanation
followed. We started using "glazes" to create shadows and highlights.
It's quite funny that Roman calls this glazes, because before I consided glazes
as water with a minimal bit of paint. He just dilutes the paint to a milky
consistency for his glazes. And it works, like a charm! After the demonstration
we worked on our miniatures and bases until after midnight, when it was time
for bed. Man, I slept great that night!
On Sunday it was time for the finishing
touches on both the miniature and base. Roman explained how he paints faces and
eyes, and a great drawing of a deamonette by Raffaele was put up to help guide
us painting the highlights on the faces. Later in the afternoon, in a rush
tempo, we were explained and showed how to achieve different effects and
textures, like leather, metallics, freehands, working with light pigments, blood
effects and many things more.
And then, unfortunately, it was time to
leave and head back to The Netherlands. Although incredibly tired and longing
for a lounge on the sofa, it was really too bad that it was over so quickly
(time flies when you're having fun) and I would have liked to stay even longer.
Impressions
Wow! What a blast had it been!
It was great to get to know Roman and Raffaele,
and to meet the many wonderful painters from Germany. Some of the attendees
were there already for the second or third time, which is a great testimony of
the quality and excitement of the workshop.
Roman is a great teacher! He explains the theory
very clearly, using pictures to demonstrate how everything works. Despite my
horrible German I managed to pick up most of the things he explained, but it
was never a problem for him to explain things again in English. I really loved
how he managed to convey his painting beliefs and feelings to us. I feel that I
now understand the concept of "Happy painting" and I really hope I can abide to
that more often! It is obvious from the incredible pieces of art that he and
Raffaele brought to the workshop that they are enjoying this form of art, and
with that they manage to make the most inspiring pieces!
I was also really grateful to get some
feedback on my own miniatures from Raffaele. It will certainly help me to step
up my painting game in the future 🙂 It was also great to look at the pieces of art that Roman, Rafaelle and the attendants brought to the workshop.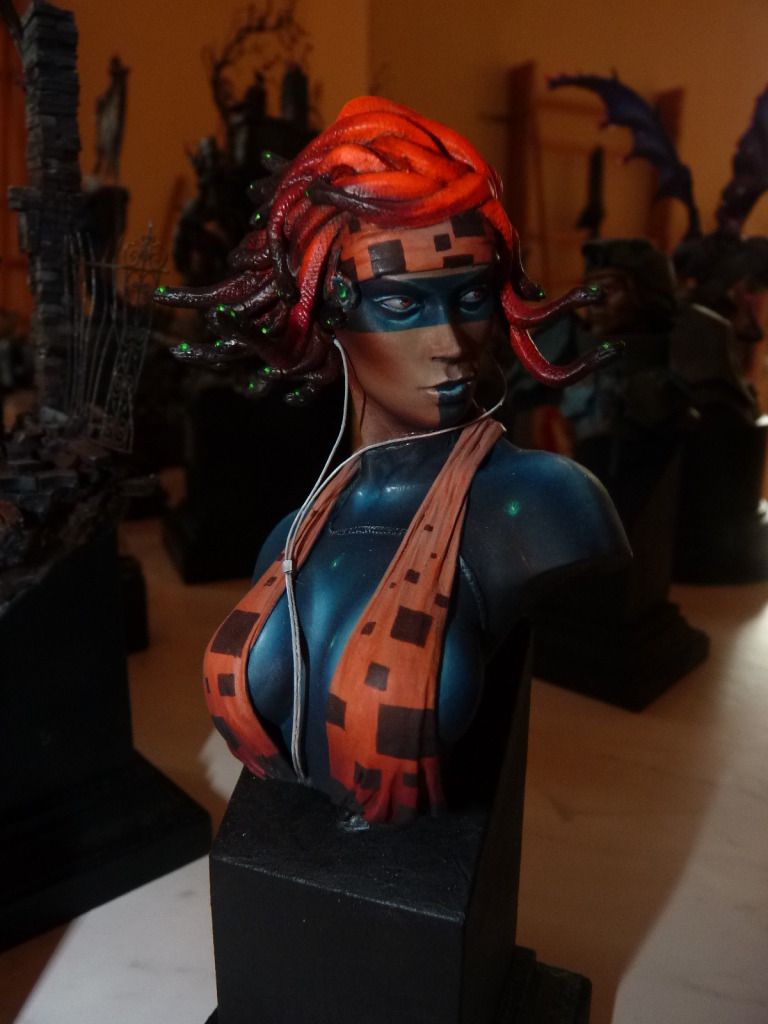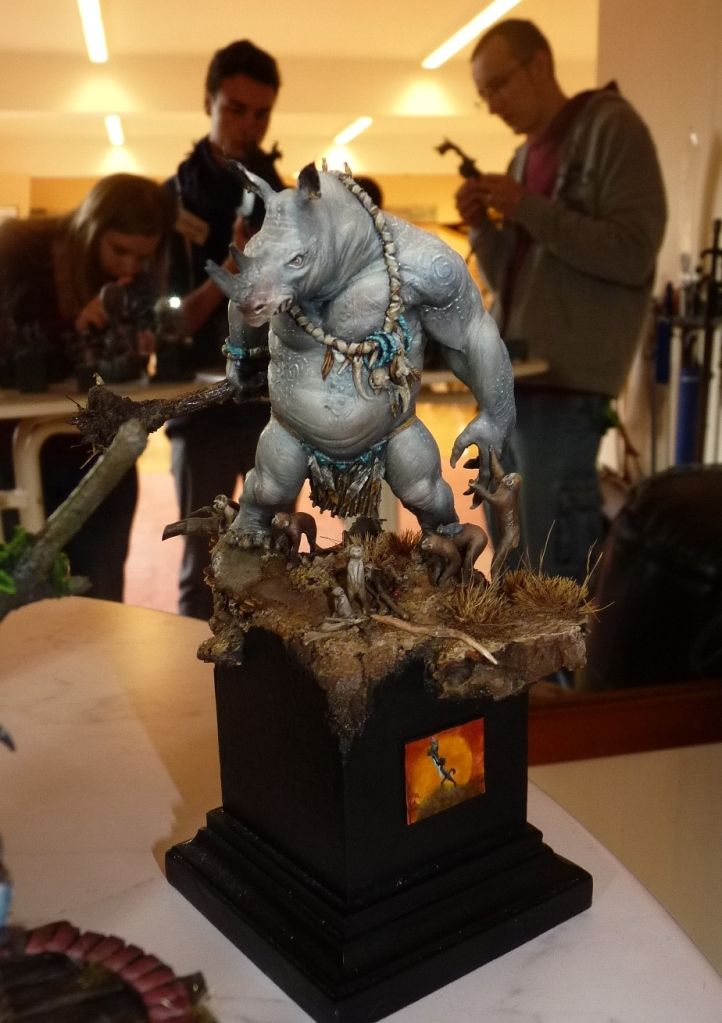 I hope I managed to show you guys how
excited I am about this workshop! A weekend can bring you loads of fun, and I
was really happy to meet all the wonderful people at the workshop. I can
strongly encourage everyone to attend one of these classes. Regardless of
painting level or background, it is a great event and definitely worth some
effort to get to, you know you want to 😉
Thanks to Roman & Rafaelle and all the
other painters for a wonderful time in Germany! And thanks to Martin for being a great travel companion on the way back & forth to Hamburg 🙂
If you like to see more pictures and reviews, visit:
Here is the result of the weekend. I didn't finish her yet, but I will in the near future!