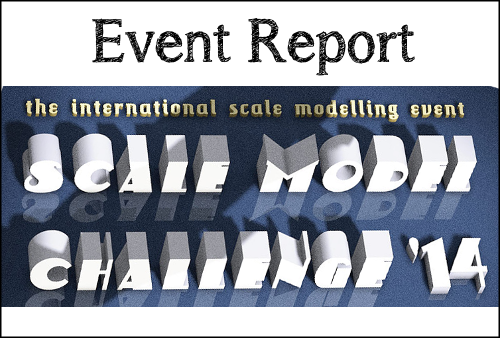 Hi everyone!
It is time for me to tell you about the amazing time I had at the event of the year (for me at least): The Scale Model Challenge :). Like the previous years, the event took place in a very nice conference centre in Veldhoven, The Netherlands. A huge area is filled with many vendors (90+), clubs, demonstrations, and of course a large competition area.
While the SMC used to be directly more towards millitary and historical modelling, the last few years have seen an incredible increase in fantasy miniatures, with a number of special guests targetting exactly that audience. For me, SMC is a perfect mix between modellers and painters of all disciplines :).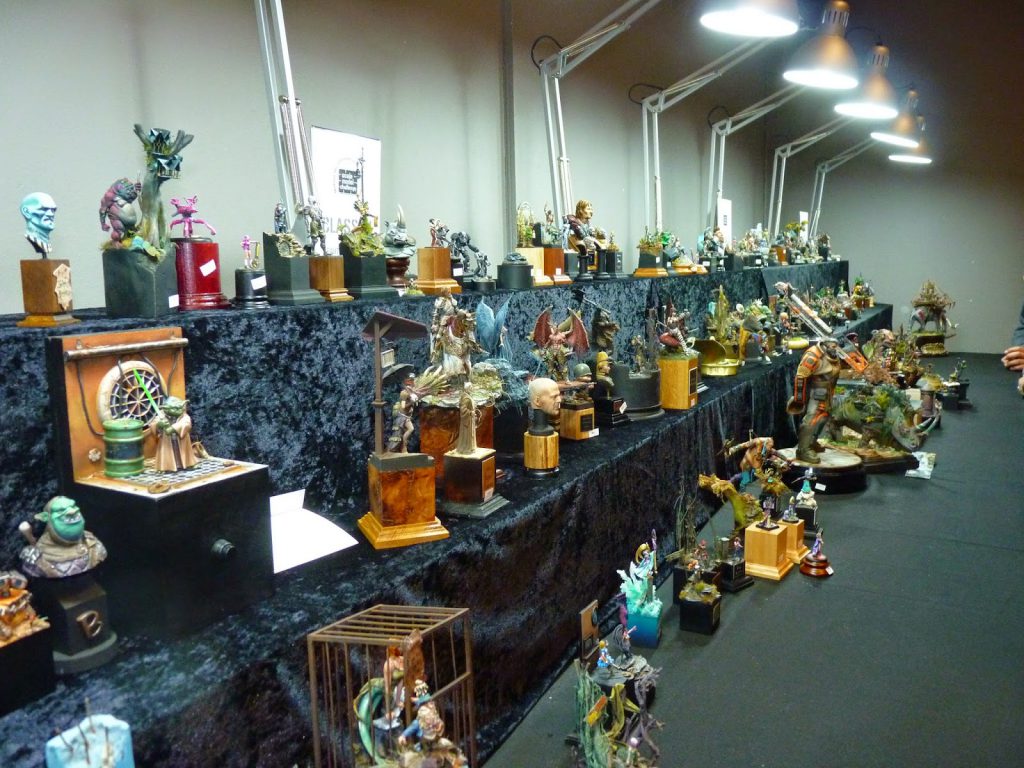 As always, the organization of the event is top notch, so with this post I also want to thank the organisators for a great event!
For me the event is something I look forward to the whole year. It is a great place to meet up with fellow hobby enthousiasts and to exchange ideas and inspiration. It is a place where I re-unite with my friends, and where I meet new ones :). I really love the social aspect of these events! That does mean that I sometimes lose track of the day and miss some demonstrations, or even forget to visit certain parts of the conference.
But I did of course make some time to enjoy the amazing entries in the contest. Overall, there were over 800 (!!) entries, divided into 31 categories. In terms of fantasy, there are several categories, including a category for fantasy figures (with beginners, advanced and master classes), and a diorama category. The judging at SMC is entry-based, which means that all entries are assigned scores and often multiple entries can win gold, silver or bronze prizes. I like that a lot! As it means that two completely differently styled minis do not get compared directly to each other.
I thoroughly enjoyed watching the pieces in the contest. There is so much inspiration, and you can clearly see the fun people had painting their models. Here are some of my favourite pieces in the competition, but everything was awesome (kick in the LEGO song!).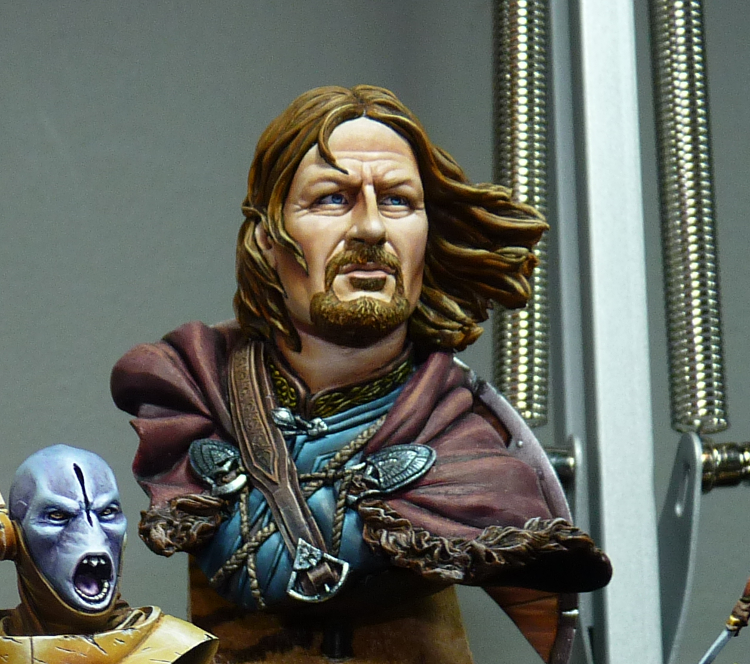 I don't know the artist, but wow! I like this piece a lot 🙂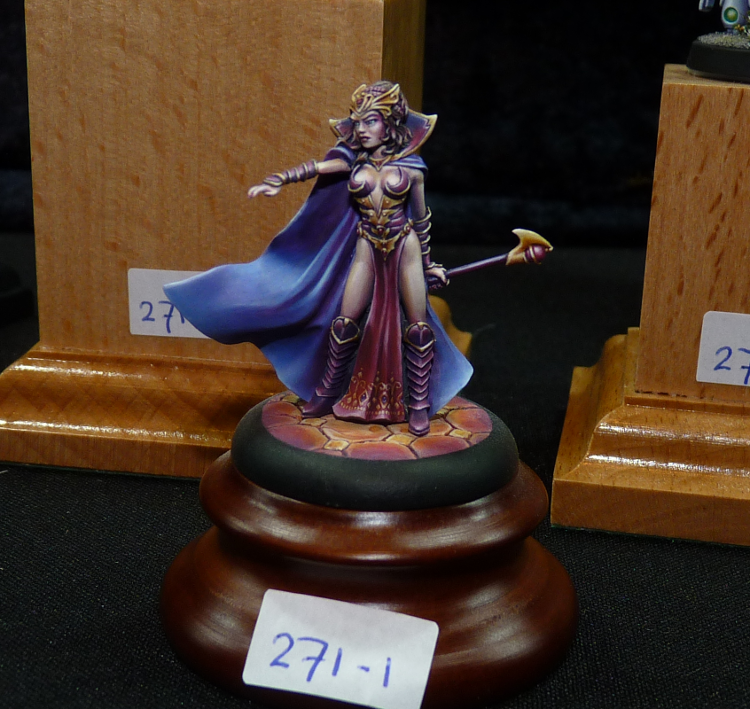 This lovely piece was painted by Brenda Gosman. Pretty colours and awesome lighting 🙂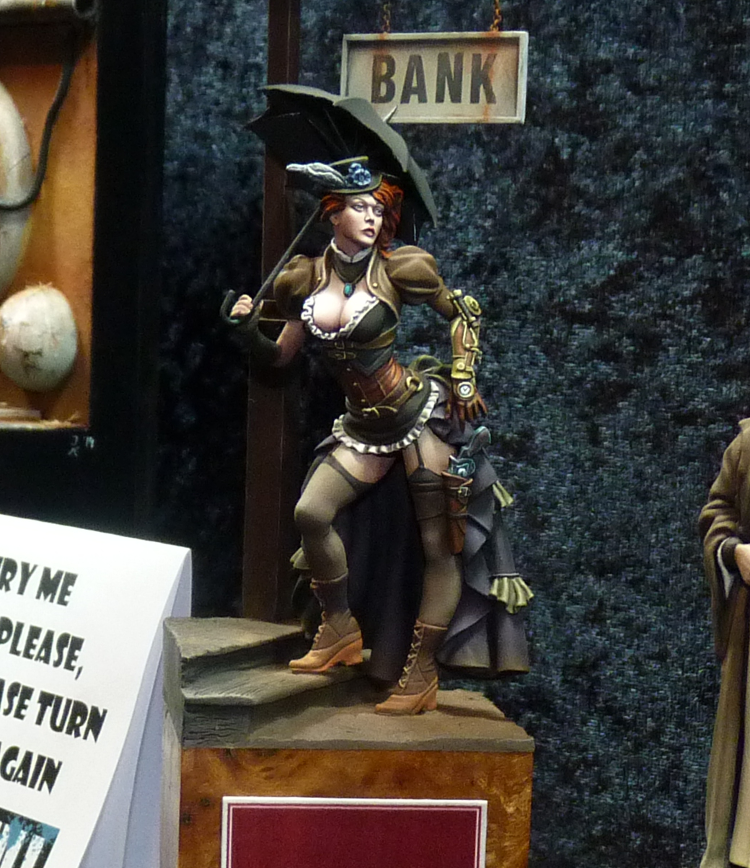 I saw this figure on pictures from Euromillaire before, it is amazing! Sadly, I don't know who painted her.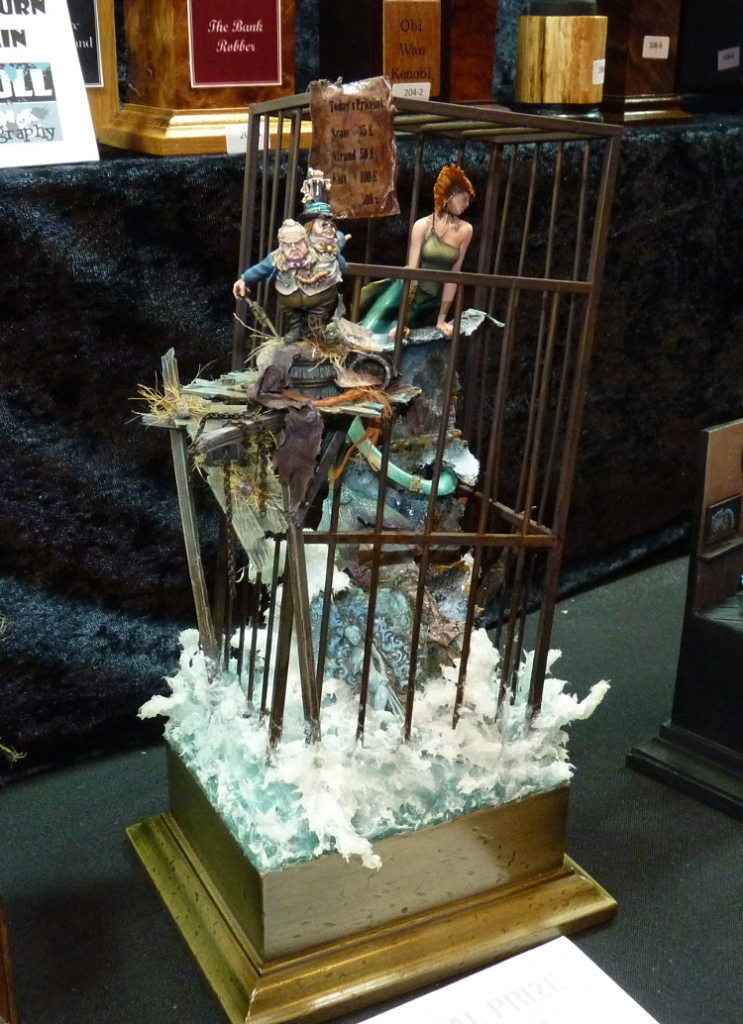 This piece deserved a better pic, but alas I didn't manage. What an amazing scene by Nicole Eppinger-Siepmann!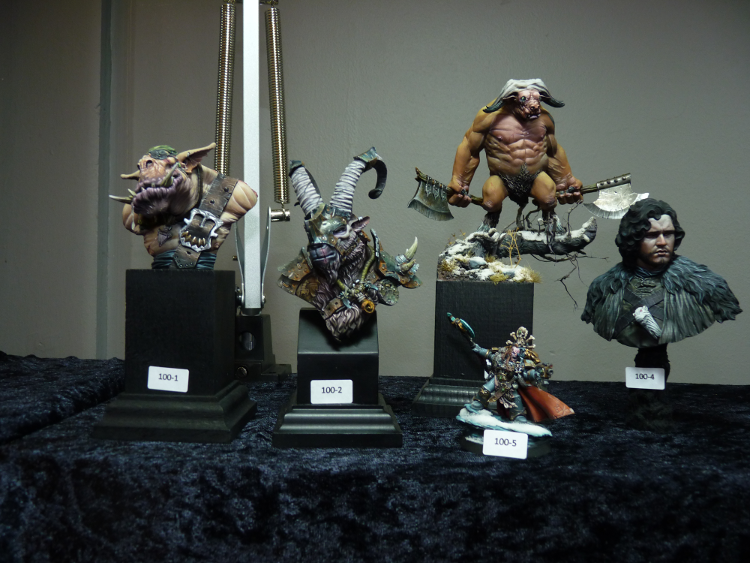 Great display with awesome figures!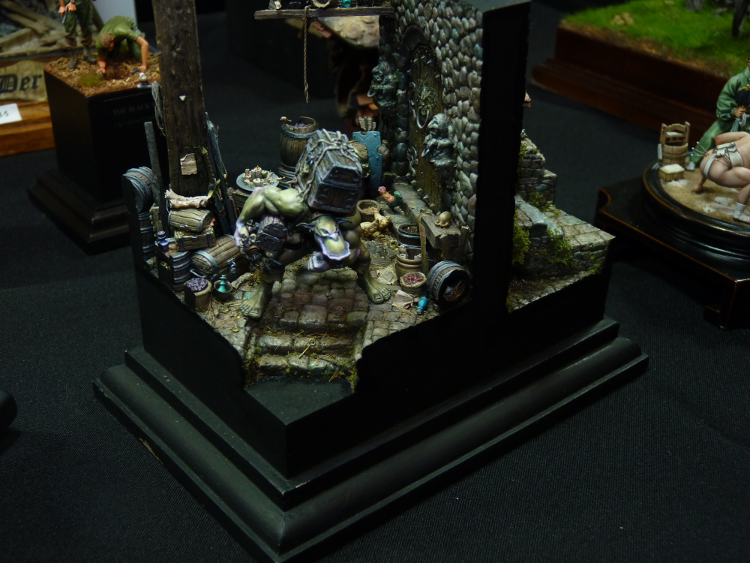 Another stunner that is hard to photograph. I wish I had more time to look at this amazing diorama by Oliver Späth.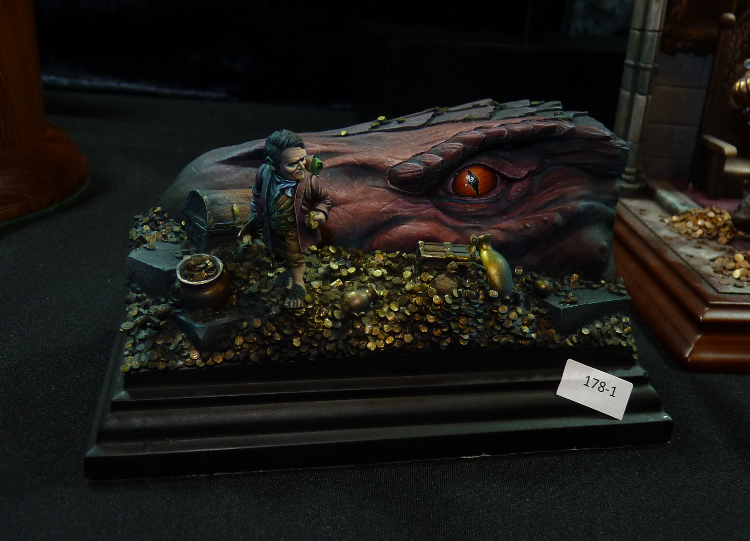 I posted this figure in September's favourites, but it was really great to see this artwork by Alex Varela (Iguazzu) in real life. Such an atmosphere 🙂
I have put all the pictures I made during the day on Facebook, so have a look if you like :).
Of course I entered the contest myself, and I was really happy to receive a silver medal for my piece "Alice in Wonderless Land" in the Fantasy Master category :D. Winning a prize is great, but I mostly enjoyed seeing my minis next to the creations of other artists :).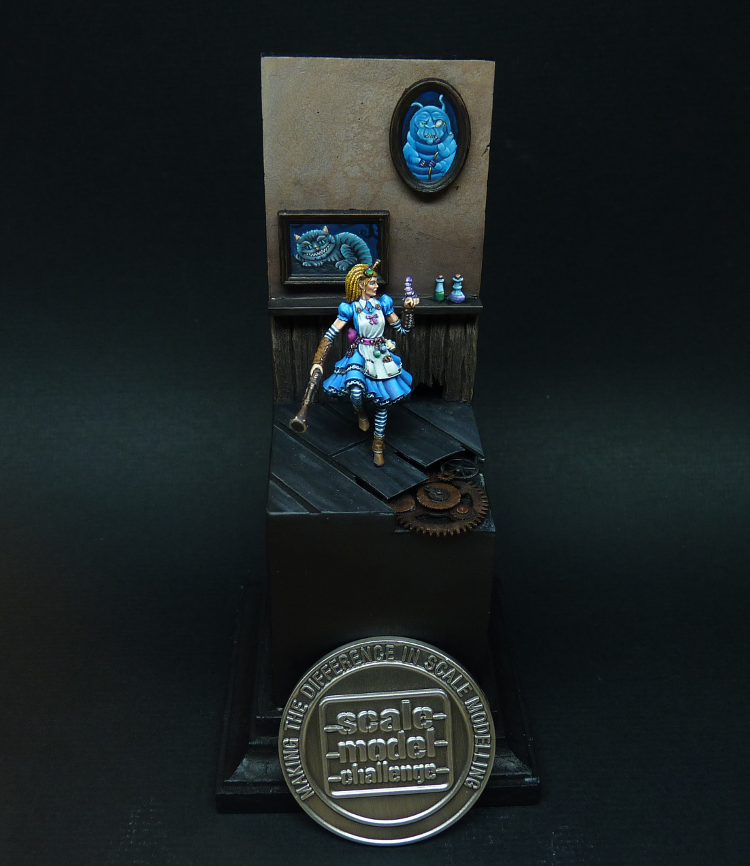 Of course a conference day does not pass without some shopping. Hey I am a girl after all :P.
Here is my loot for the day! Many thanks to Martyn Dorey from Model Display Products for the nice gift, I will surely use the forest pieces on my future bases 🙂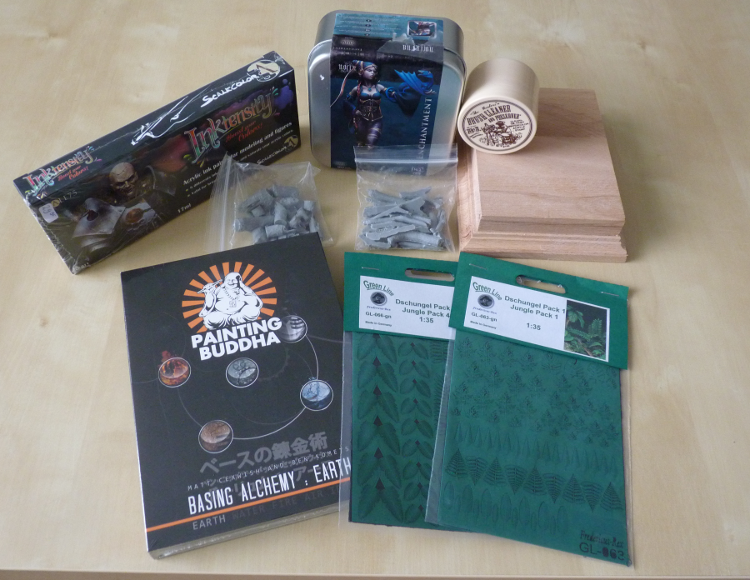 Another year over, and what an event it has been!!! I will be able to draw inspiration from this for a long time to come :). Thanks to all the amazing people who made this day possible! Thanks to everyone for a great atmosphere!
Link collection
If you want to see more pictures & reports from SMC, check out these links below:
A huge set of pictures by Flemish Priminitives
Awesome pics by Peter from Scars Miniature Madness
Entensive collection of pictures by Kurt Mollers
Pictures by AGMF club (including many club stands pics)
My picture collection on Facebook
A video impression by Hired Guns
I will add links to this post whenever I see them, so be sure to check back if you want to see more!
I hope you liked my report 🙂 It has been great to meet up with some readers of the blog as well 😉