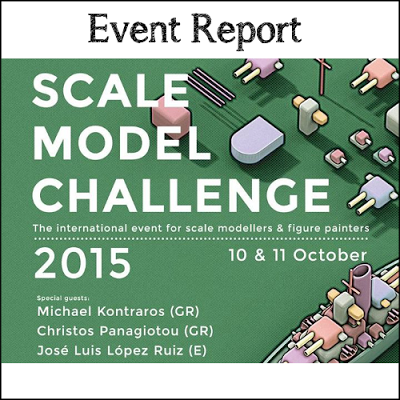 It is the
annual event I am looking forward to from the minute it ends, Scale Model
Challenge in Veldhoven (NL)! Each year this event gets bigger and bigger.
Originally mainly focused on scale modelling and historical works, now the
figure side of the event becomes bigger and bigger each year. This is marked
not only by the entries in the huge contest, but also by the traders present to
sell their precious goods.
Today I
would like to share how I experienced this year's SMC!
Day 1: Workshop with Fernando Ruiz
For the
first time, the event was scheduled over two days (!). The first day focusing
on workshops, ranging from diorama building to painting with airbrushes and
painting with the brush. I took this opportunity to join a full day workshop by
Fernando Ruiz. I purposely choose this workshop, from a big bunch of great
options, as I really wanted to try painting something bigger than 30mm without
switching to a different medium (oils instead of acrylics for example).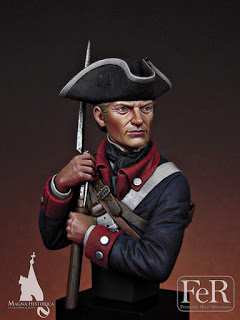 The model used in the workshop. Quite different from my usual "canvas" ;).
The
workshop turned out exactly as I hoped for, and it certainly gave me a feeling
for the bigger scales. Fernando's way of painting is very clear and he taught
us very enthusiastically and clear how to go about his way of painting. I loved
it! I certainly believe that this workshop, combined with some personal tips from
Fernando, has cleared my fear of bigger figures!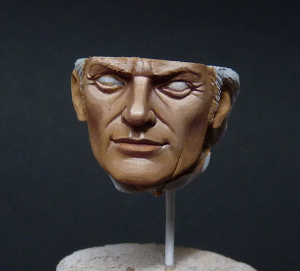 My results from the workshop. Focused on blending and warming right side (your view)
Fernando's model he used to explain his techniques. Incredible! Something to strife for 🙂
As SMC was
now a two day event, I decided quite early on to book a hotel room for Saturday
evening and I was really happy about that. After the workshop, I took some
relaxing time in my hotel room processing all the information I obtained :).
Then it was time for the dinner
& evening drinks at the bar. I truly enjoyed the evening, spending it with
great people and hobby enthusiasts!
Day 2: Scale Model Challenge 2015
After a
short night, I took a (way too) big breakfast to ready myself for the day
ahead. The day of the show!! This year I shared a table with our
build-for-the-occasion painting club "de lager landen schildervrienden), so we
started by setting up our table. The club spaces were slightly hidden away this
year, which was a pity as you didn't get to catch a lot of the show from our
side. However, I didn't have much time to spend at the table, as I was running
around the place talking to all the nice people. Anyway, the morning really
started when me & Pascal entered our models into the contest. It was funny
that everyone who had pre-registered needed to stand in line, but people who
didn't register online had no queue.
This year I
was asked to help with jurying , and I had mixed feelings about that. I was
excited to be able to take a real close look at some of the entries. On the
other hand, I always believe that anyone does their best in creating beautiful
pieces and I don't like putting a value to anyone's work. But I must say, I
really learned lots from judging. Not only from how my fellow judges look at
minis, but also how I look at minis and what criteria I look at. What makes one
mini (or several minis who won gold) stand out instantly among the other minis?
It is very interesting indeed! Overall I really enjoyed it and it was just a
great opportunity to be able to truly see all the beautiful pieces, without
standing in a queue to gain a little peek.
Below you can see the two gold winners in the Fantasy Master category, where I also entered two models.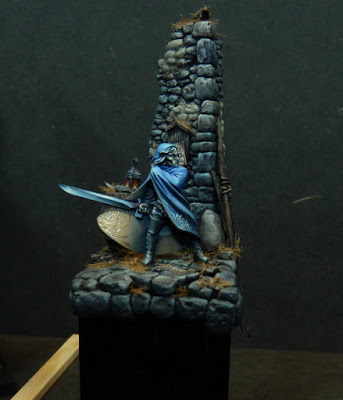 Old school dark elf painted by Anna Shetakova. Very nice freehand!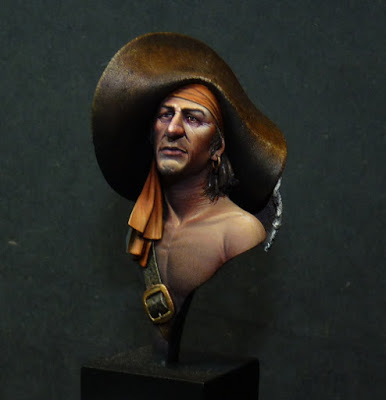 This amazing piece was painted by Philip Prinz. So much expression in this piece, I spent a lot of time looking at the lighting and colours :D.
After that,
time flew by way too fast! I made some time to do some quick shopping. Some
figures I already hoped to buy there, others were an instant love ;). This year
my parents, who happen to live much closer to the venue than me, came to see
what this day was all about. I think they also really enjoyed it, despite not
being hobbyist themselves – although my dad did buy some balsafoam so maybe he
will become a modeler too :).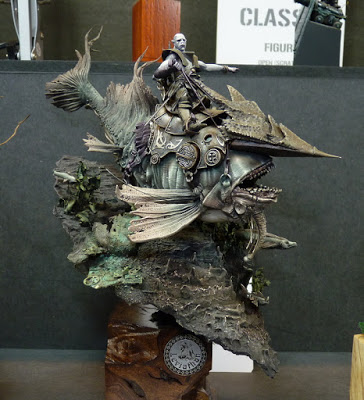 Best in Show: Scratch-build by Michael Kontraros. I was really looking forward to see this piece in real life, and it was definitely not disappointing. Truly wonderful!!!
The rest of
the day was filled with catching up with all the great people there, meeting
new hobby enthusiasts and making pictures of the contest. Before I knew it, it
was time to take the train back home. Those 3.5 hours in the train,
interestingly, flew by superfast with all this inspiration still floating
through my head!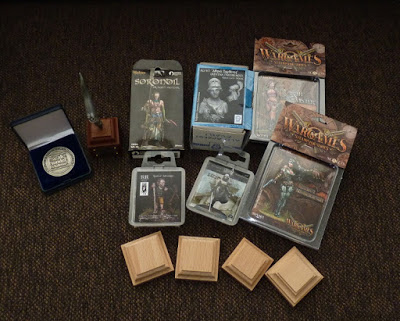 What I took home with me. Really happy with my silver and the trophy from DieVincis that I won in their online contest. You will see some reviews from the figures here soon!
Suffice to say,
I am looking forward to next year again! I have loads of ideas for projects and
hopefully I can manage to paint a few of them :).
If you want
to see the pictures I made from the figure contest, please visit my facebook
page here:
Hope to see
you soon!