Hi everyone,
With this post, I would like to let you know that I have decided to add a new feature to my blog. When I post pictures of my miniatures, either on my blog, facebook or on a forum, I often get asked which colours I have used on certain parts of a model. As I don't mind sharing at all, I happily explain share this 🙂
Then I thought it might be a nice idea to have a little log of the colours I am using. Partly for myself, as I can easily check back something that has worked for me before, but also for anyone who is interested in knowing the colours I used. Personally, I would like to see other painters do this too 🙂 I know that only having the colour palettes would not make recreating a colour perfectly easy, but it would help a bit as a suggestion or perhaps inspiration.
Click on the picture for the page, or check the link box above.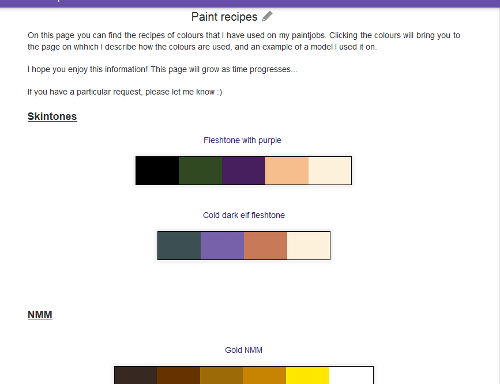 For now the content is still small, but I will soon start adding more. Requests are very welcome! If you see something you like on one of my minis, let me know and I'll create an entry in the log 🙂