Hi everyone,
I had this amazing miniature by Sebastian Archer from Guild of Harmony and it was just laying there in my drawer full of grey and metal minis. I really loved the sculpt, but I couldn't figure out what I wanted to do with the base.
So I took a look on the wonderful web to get some inspiration.
In this drawing I really like the combination of the steampunk details, with the traditional Alice look.
Aah yes, of course I should include the looking glass somehow. Again Alice is wearing the traditional blue dress, blond hair.
My favourite character has to be included of course 🙂 I can't sculpt, so I'm going to incorporate it in a different way.
I like the contrast of the grimness on one side and the warm colours on
the other side. This is the Tim Burton kind of Alice, and although I am not a big fan of that movie, it sure looked great and had a very nice atmosphere in colours.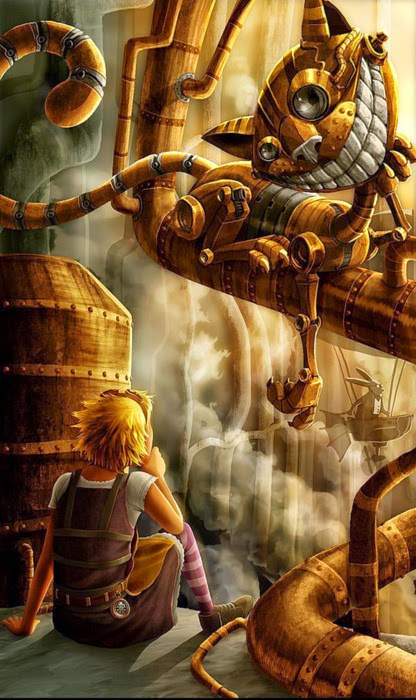 Unfortunaly I have not been able to locate the source of this artwork
Another steampunk setting. I really like the different outfit of Alice, and of course the Cheshire Cat.
After pondering for a long time, as I did really like that last picture, I still decided to go for a traditional Alice look. I want there to be no doubt as to who she is. It will also, hopefully, create a strong contrast between the figure and the base which will have a steampunk settting.
So I took a print out of a picture of the sculpt and did some colour tests. Here is what I came up with: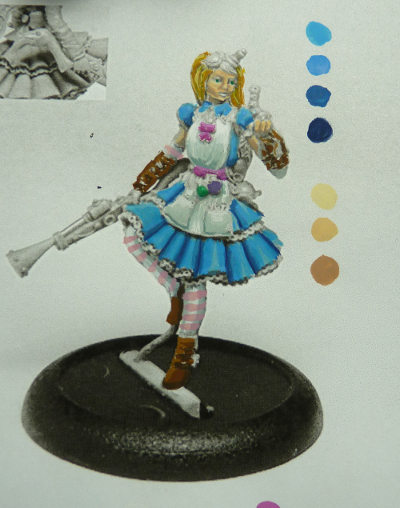 I'm still not sure about the stockings, so I might change that. Suggestions are welcome of course 🙂
So after all that, I started putting some paint on the figure. So far I painted the first steps on the face and on the dress. The skirt is much more difficult than I imagined and requires a great deal of blending. In reality the contrast is a little stronger there, but unfortunately the picture didn't pick it up. I still need to include more highlights though.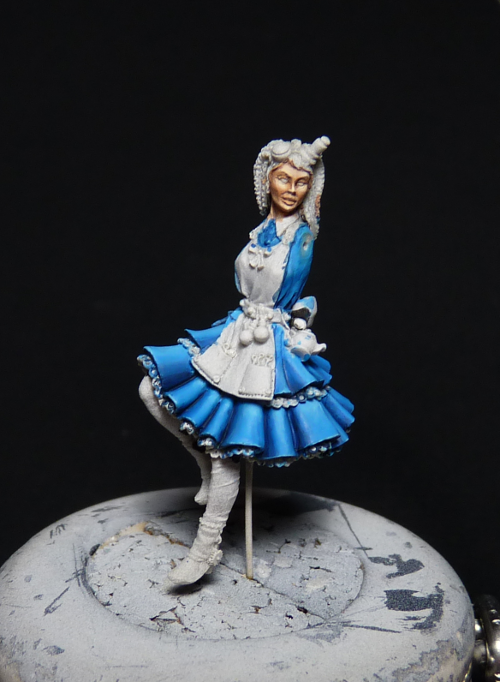 Have a nice weekend!